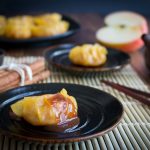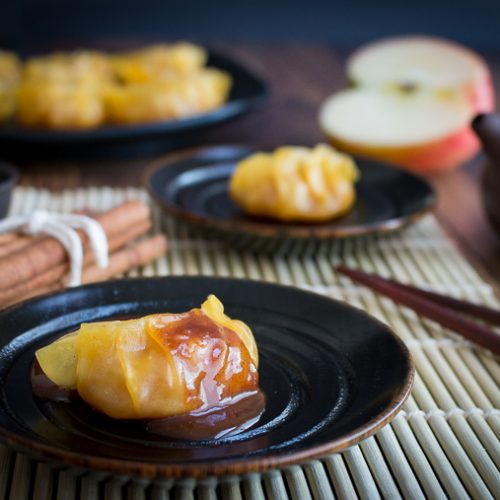 Print Recipe
Apple Pie Pot Stickers
Apple Pie Pot Stickers are Chinese pan fried dumplings stuffed with apples, cinnamon and ginger with an easy Cinnamon Ginger Caramel sauce for dipping.
Apple Pot Stickers
Apples – 3 large, peeled chopped finely – about 2 cups (we used honey crisp)

Cinnamon – 2 teaspoons

Ginger – 1 inch fresh knob peeled and grated or can use ½ teaspoon dried ground

Brown sugar – ½ cup (or sugar alternative of choice)

Corn starch – 2 tablespoons

Butter – 1 tablespoon

Lemon – optional for preventing apples from oxidizing

Dumpling (jiaozi) wrappers – 30

Water – 1 cup (for sealing pot stickers)

Oil – for frying
Cinnamon Ginger Caramel Sauce
Chop up apples finely. Add cinnamon, ginger, brown sugar and cornstarch to chopped apples and stir until well incorporated.

Add 1 tablespoon of butter to pan and add apple mixture and stir fry until fork tender, about 5 minutes. Remove from heat and set aside.

Take one dumpling wrapper from the package (Making sure to keep the rest covered under a damp tea towel so they do not dry out) Wet the edges of the dumpling wrapper with water on your finger around the edges to help seal. Place one heaping teaspoon of apple mixture into the center of the wrapper.
Complex technique
Fold the wrapper with the apple filling in one hand. Fold the wrapper with the pot sticker over in half BUT do not let the edges touch. Starting on one side pinch close a small section with your thumb and index finger. With your less dominant hand make a fold on the top section of the wrapper while keeping the bottom section of the wrapper flat. With your dominant hand crimp, the crease tightly. Repeat the process around 8 times or until you meet the opposite end. Pinch the edges of the pot stickers and the creases tightly so they stay sealed during the cooking process. Repeat with the other 29 Apple Pie Pot Stickers.

Place 1 tablespoon of light flavored oil to your pan or wok. Working in small batches as not to crowd your pan, place the prepared pot stickers in the pan. Pan fry over medium heat for about 30 seconds to one minute or until the bottom of the apple pie pot sticker is golden brown. Add ½ cup of water to pan. Cover your pan with a lid and simmer over medium low heat for about 3 minutes. Remove lid from pan and cook until the water has evaporated. Remove apple pie pot stickers from pan. Repeat process with the remaining pot stickers.

Make the Cinnamon Ginger Caramel Sauce: Add butter, brown sugar, cinnamon, ginger and salt to a pan and cook over medium heat until warm, bubbly and all the sugar has melted. About 2-3 minutes.

Drizzle Cinnamon Ginger Caramel Sauce over your apple pie pot stickers and enjoy!
Serving:
30
g
|
Calories:
200
kcal
|
Carbohydrates:
349
g
|
Protein:
21
g
|
Fat:
6
g
|
Cholesterol:
3
mg
|
Sodium:
190
mg
|
Fiber:
5
g
|
Sugar:
163
g