Veggies in a Blanket with Red Pepper Pesto is one delicious bite of roasted veggies, homemade pesto, cheese and wrapped up in a Swiss chard leaf and grilled to perfection.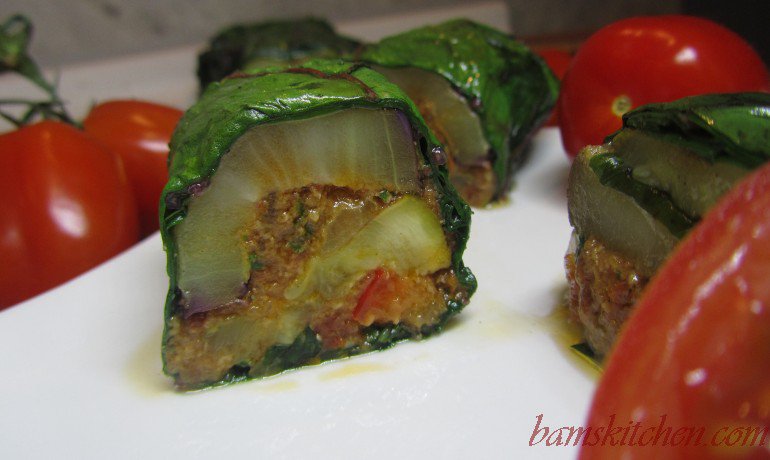 Have you ever been to to the market and have a vegetable catch your eye?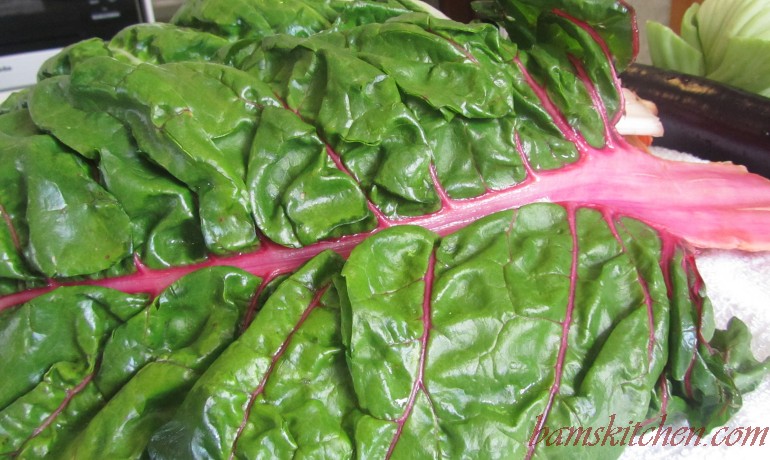 Veggies in a Blanket with Red Pepper Pesto
I have made a gorgeous grilled vegetable swiss chard wrap with red pepper pesto that will make you forget all about "meat". Marinated and grilled aubergines (eggplants), zucchini (courgette), onions, sweet tomatoes with a delicious red pepper, sun-dried tomato, and pecan pesto.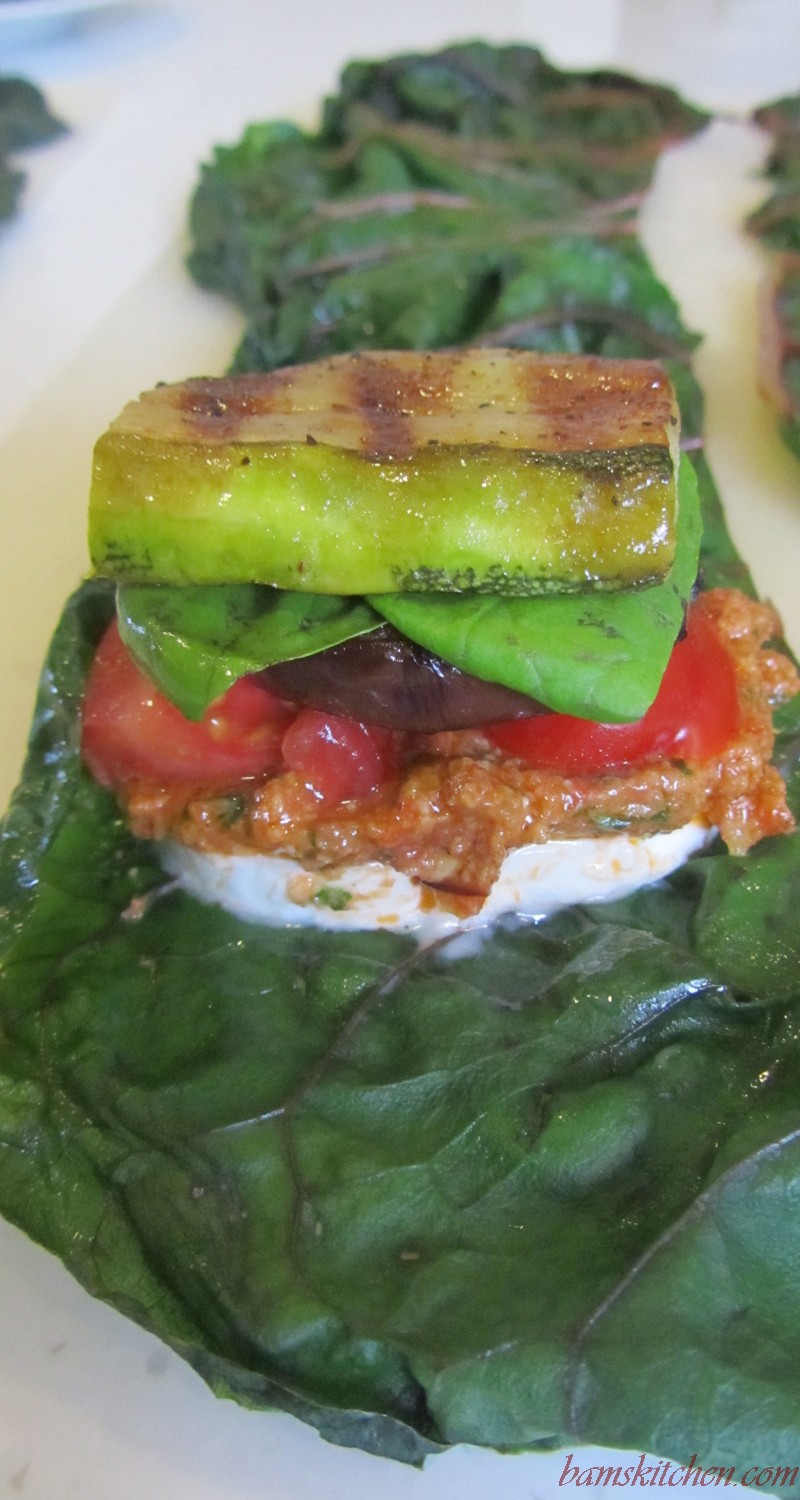 I then stacked all this delicious goodness inside a slightly whole steamed swiss chard leaf, adding a few fresh herbs then wrapped in a cute little bundle just before being brushed with a little olive oil and grilled to perfection. Veggies in a blanket with Red Pepper Pesto is a perfect as main, entrée or even as a side vegetable. In addition, Veggies in a Blanket with Red Pepper Pesto is cardiac friendly, diabetic friendly, vegan, lactose free, egg free, and gluten-free and it is delightful.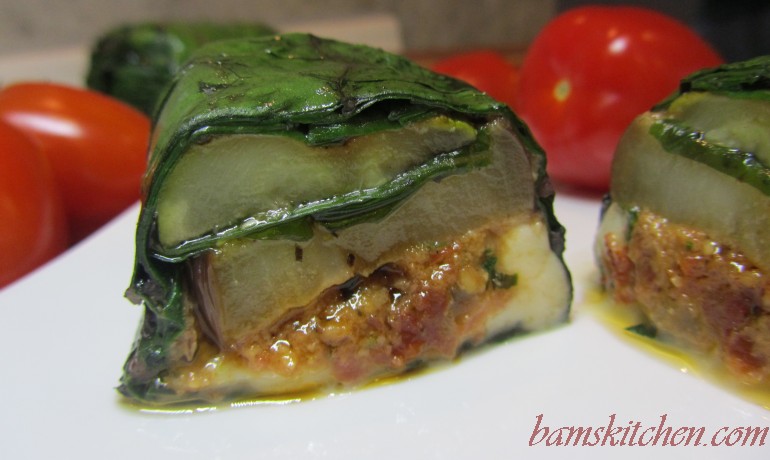 Vegetables can be beautiful and even coloured like the rainbow. I love picking through the market to find the freshest and colourful, perfectly ripe vegetables for a dish. Fresh vegetables that are in season are always my favourite. Most of the time, I have no idea what I am going to be making for dinner until I go to the market to find my inspiration.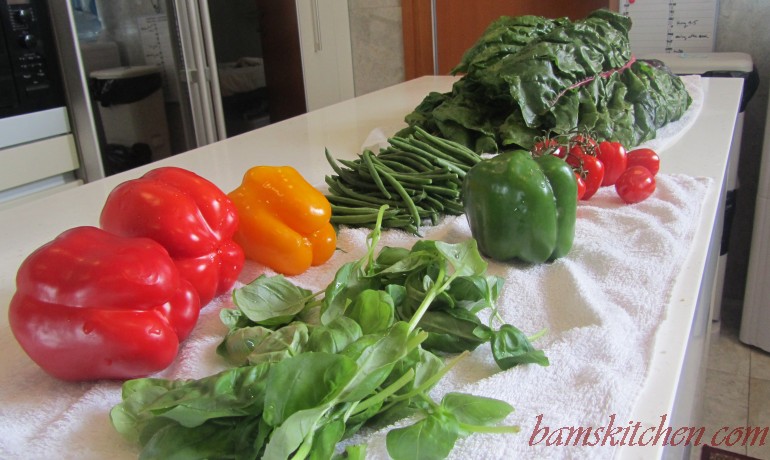 I know many people make a list and only get the groceries on their list. This is very prudent and wise. I guess, if I lived back in the States that would be a completely acceptable thing to do as I could be certain I could find everything on my list and then some, but living in Hong kong, you have to do that the other way around.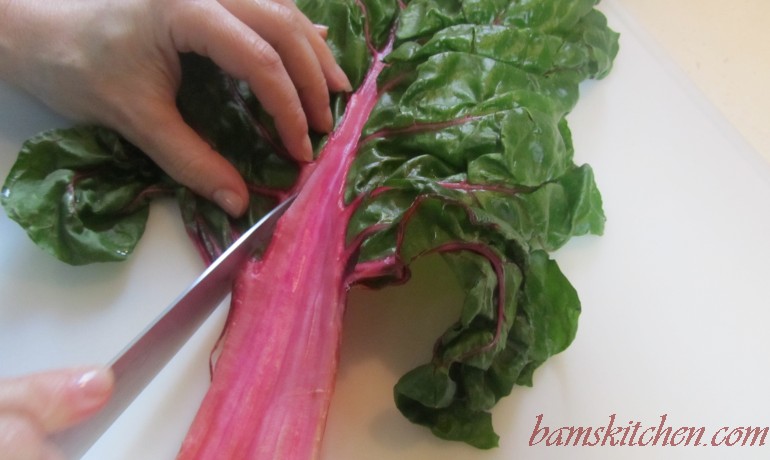 It is ongoing problem that the local grocery stores can be out of bread, eggs and milk all on the same day. However, if you are on the hunt for 1000 year old eggs or chicken feet , you have come to the right place. Hence, I go to the wet markets, grocery stores first and then sometimes specialty stores to figure out what is for dinner.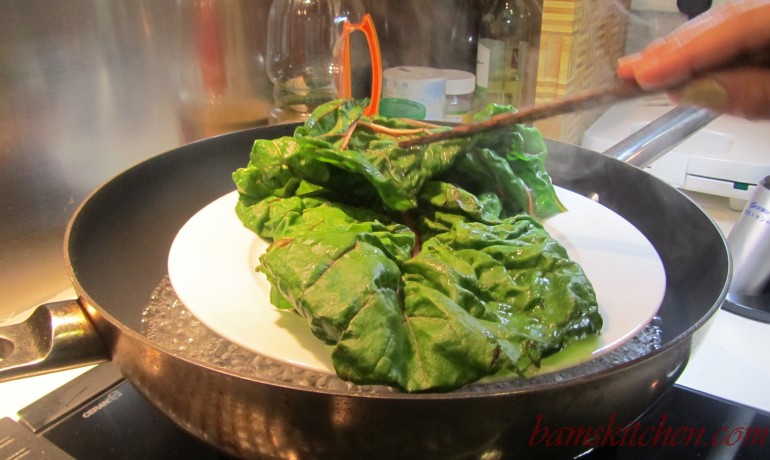 I visited a specialty store to get some of my usual specialty items for Healthy World Cuisine such as coconut oil, tamari sauce and gluten-free flour mixes. Then out of the corner of my eye, I saw there organic vegetables freshly imported from the US.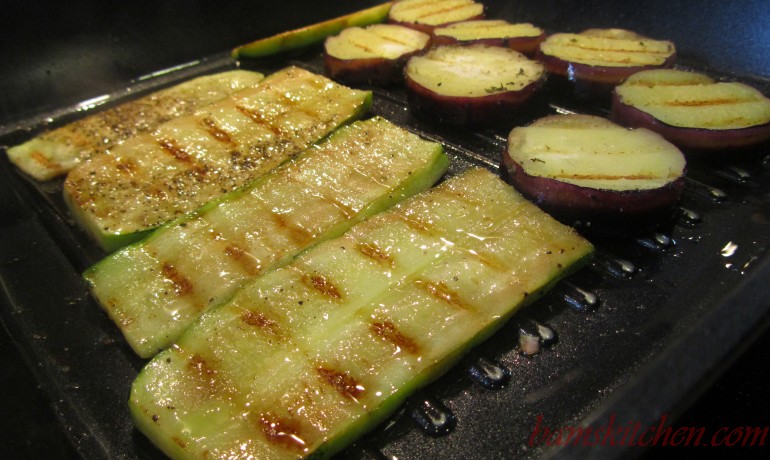 Sometimes there is something in the market or grocery store that just catches my eye and then it happens...I have a vision. I held the rainbow swiss chard in my hands and admired her beauty and intricate webbing and bright colourful stems. It is kind of like REM sleep, when you dream really fast and your heart beat goes faster, your breathing is a little more rapid as the ideas begin to flow.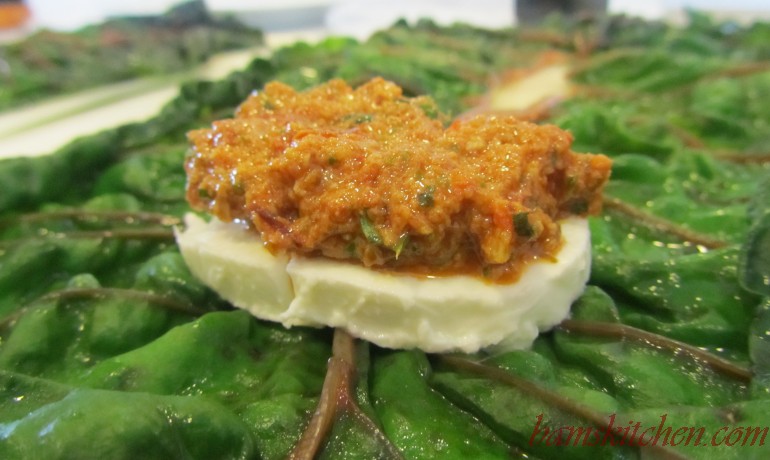 I really do not know how long I stood there just holding the swiss chard in my arms. I closed my eyes for a moment and could remember my dad cooking swiss chard with bacon and of course lots of garlic...from the harvest of our own garden. This dish was always delicious but look how pretty this swiss chard is, how could I dare cook her down to almost indistinguishable pulp of vegetable. She deserved so much more.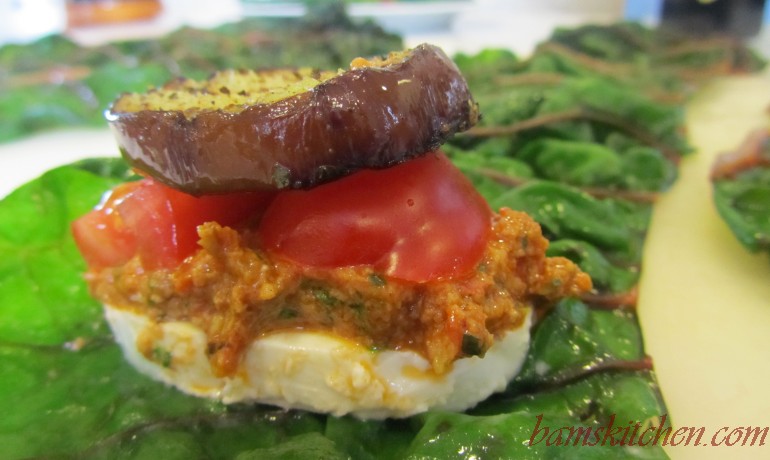 When I opened my eyes, I saw beautiful red bell peppers, tomatoes and zucchini and I was hopelessly hooked and a recipe was born. My original idea was to have a fresh raw vegan evening, but then something in the back of my mind that my father said sprung in my mind. "Are raw swiss chard leaves or stems poisonous when eaten raw?"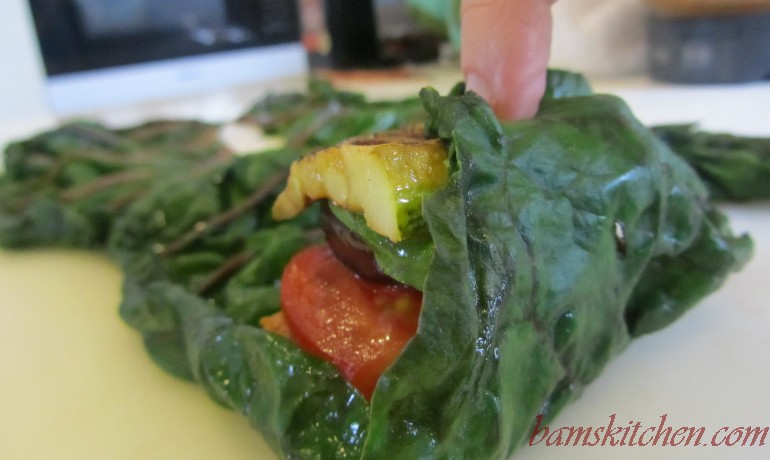 I began to look this up on the internet. Is this true? I know that rhubarb is poisonous but hearing some mixed messages about swiss chard. Wikipedia say they are high is oxalic acid and okay to use in a salad. Any thoughts on this are welcome?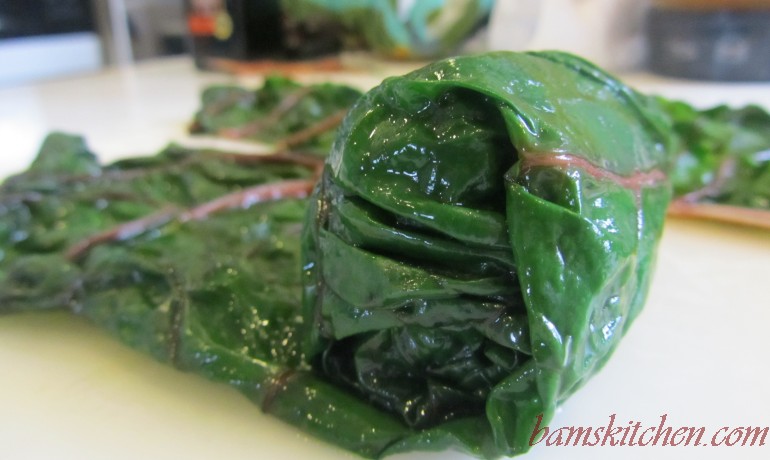 I think my hungry teenager boys might want to say yes that swiss chard is poisonous and lethal whether it is served raw, cooked, sliced, diced, steamed, baked, grilled, sautéed, stir fried or eaten with sushi!!! Mom, where is the meat??? Mom, why you forcing me to eat green things? Mom, why do we have to eat healthy, dad is not even at home? and the list goes on and on ...Boys your comments are not welcome here!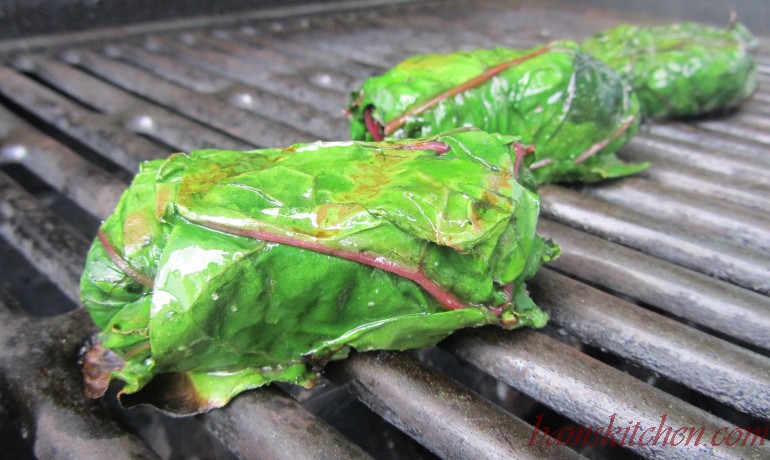 My boys might be surprised if they tried it, they might really like it. I know it is green...I know it is healthy for you but with that amazing red pepper pesto you will love it. (I must admit my boys were not budging they would not try one little tiny bite.) However, I made my teenagers an amazing pasta with grilled chicken and the amazing red pepper pesto and they gobbled that right up.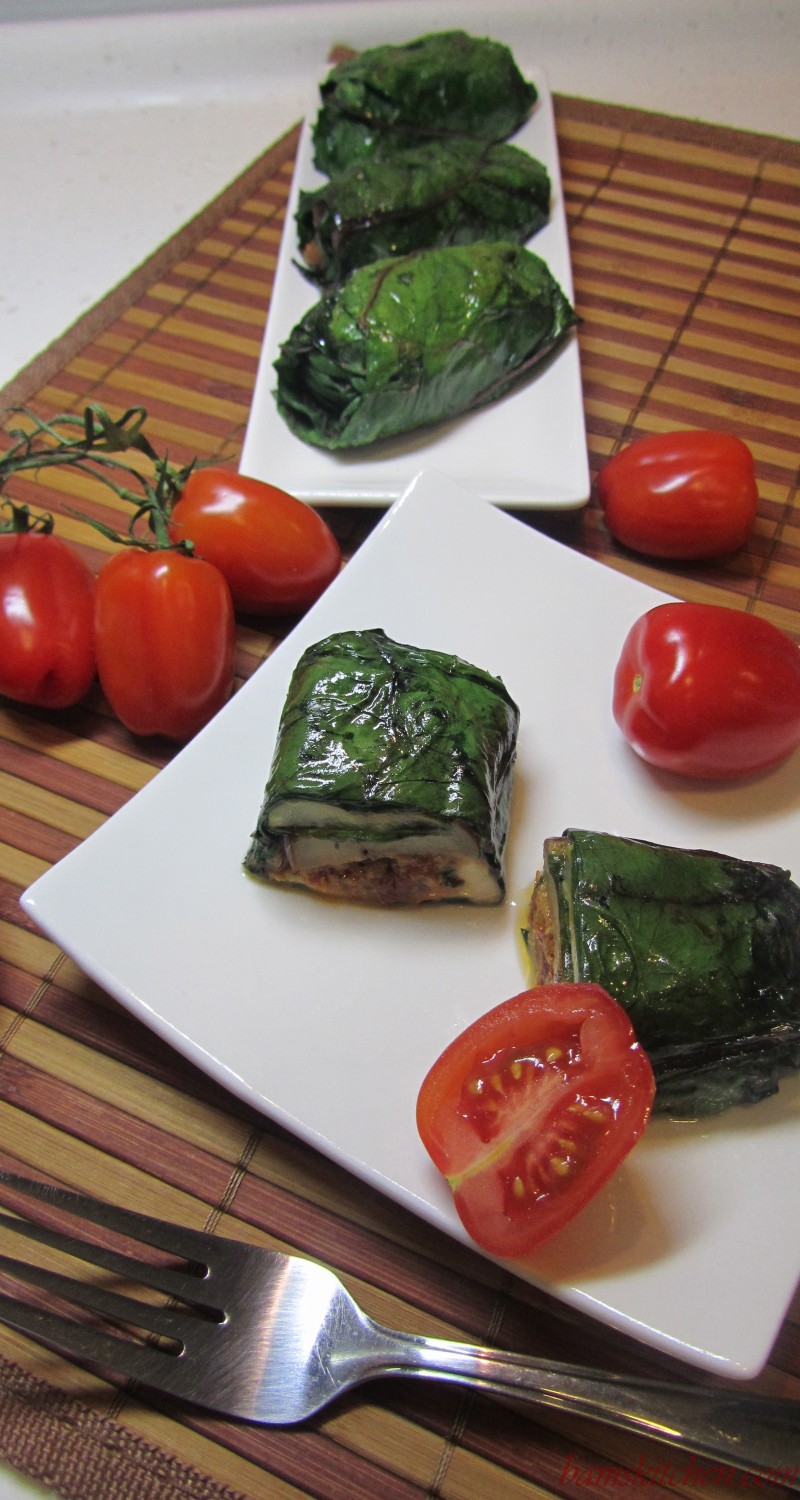 To be on the safe side, I made a slight recipe adjustment and kept the swiss chard leaves whole but first steamed the leaves for just a minute to get them pliable and then grilled these delicious Veggie in a Blanket packets with Red Pepper Pesto.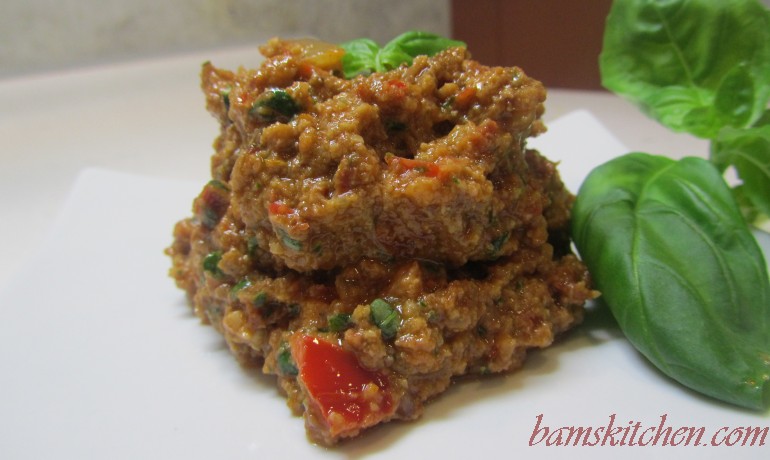 I think plan B was delicious. I could have made a meal out of these delicious little vegan bundles. I was so happy to have leftover red pepper pesto. Red Pepper Pesto is awesome in pasta, on top of chicken and many other dishes in the upcoming days. Next time, I will make a little extra red pepper pesto and freeze it for an easy week day meal dinner idea.
More Delicious Appetizer Ideas
Lavender Lemon Goat Cheese Spread
Summer Rolls with Chili Lime Dipping Sauce
Hungry For More? Subscribe to our Newsletter and follow along on Facebook, You Tube, Instagram, and Pinterest for all the latest updates.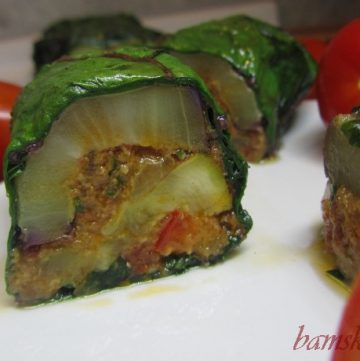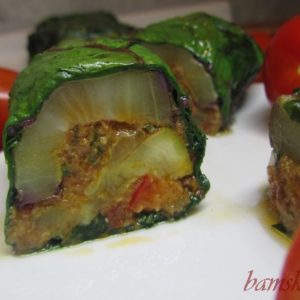 Veggies in a Blanket with Red Pepper Pesto
Veggies in a Blanket with Red Pepper Pesto is one delicious bite of roasted veggies, homemade pesto, cheese and wrapped up in a Swiss chard leaf and grilled to perfection.
Print
Pin
Rate
Ingredients
Red Pepper Pesto
1

tsp

olive oil


1

onions


peeled and chopped

3

cloves

garlic


peeled

½

cup

pecans

1

red bell pepper


chopped

½

cup

sun dried tomatoes


chopped (in oil) or if using dried be sure to place them in a little hot water to soften for about 30 minutes prior to chopping

½

cup

basil


handful washed and stems removed

½

cup

olive oil

(or can mix ¼ water and ¼ cup olive oil to save on calories)

salt and pepper

to taste
Veggies in a Blanket
3

leaves

Swiss chard

washed and stem removed

water


enough for steamer- depending on the device you are using

1

zucchini


medium washed and cut lengthwise un-peeled

1

Asian Eggplant

medium washed and sliced crosswise with skin on kept on ( can substitute regular western eggplant)

2

tomatoes


sliced across (roma tomatoes would be nice as less water content)

basil


large handful left whole and washed

6

oz

mozzarella cheese


(fresh) 1 large ball sliced thinly (optional)- hold if lactose intolerant

1

tbsp

olive oil


just to brush to prevent sticking on grill (you could also spray with a little oil if you prefer)

salt and black pepper - to taste

to taste
Instructions
Make the red pepper pesto (Makes about 1 cup)
In a medium sauce pan, add olive oil onions and garlic and sauté until slightly caramelised. Set aside to cool.

Add caramelised onions and garlic, pecans, chopped red bell peppers, sun dried tomatoes, basil, olive oil (water) and salt and pepper to taste in the food processor and whiz until blended. Set aside and refrain from putting it on crackers and eating it all, before you finish the rest of your dish.
Make the Veggie Blankets
Remove the hard stem from the inside of the swiss chard so that it is easier to wrap your veggie blankets. (Save these little swiss chard stems as they are fantastic in soups or stir fries)

Set up your self a makeshift steamer. A wok with a plate and cover, a steamer basket and a pot, or whatever is convenient for you. (Most recently my makeshift steamer lid is broken, I improvised by covering my wok with a plate with aluminium foil.... See there is always a plan B)

Place one leaf of swiss chard in at a time and steam for about 1-2 minutes just to make the swiss chard pliable to use as a wrap. As the leaves are quite large you may need to fold it over on itself to fit. (Be careful as the leaves are tender and you do not want to break them)

Take your slices zucchinis and eggplants and brush with a little olive oil and season with salt and pepper to taste. Grill vegetables until fork tender or about 2-3 minutes on each side. Other vegetables such as mushrooms, onions and peppers would also be a nice addition or whatever your little heart desires. If you just can't stand the idea that these are meatless, maybe even grilling a few sausages, firm fish fillets or chicken breasts would be nice as well. (You can use a grill pan on top of the stove or gas or electric grill.)
Assembly
Lay out a swiss chard leave and cut it in half the long ways. Each swiss chard leaf will make 2 veggie blanket wraps.

Now is your time to be creative and have fun. Stack your veggies on the end of the swiss chard leaf in the center. I layered a slice of zuchinni, a dollop of red pepper pesto, then followed by a slice of tomato and then a slice of eggplant and a few basil leaves along the way. In some of my other veggie wraps, I used slices of fresh mozzerella cheese, dollops of red pepper pesto, followed by zucchini, tomato, more red pepper pesto, basil leaves and grilled eggplant. There is no right or wrong way to do this but I would try to keep your slices of vegetables about even sizes to each other and I cut my zucchini slices in half first as they were too long. Don't make your fillings too high or your leaves won't be long enough to wrap up all of the vegetables. Mix it up, experiment and have fun!

Wrap up your vegetables in a swiss chard blanket. I used the very similar technique I use to roll up a tortilla. I start by holding firmly to the veggie stack as I rill over once. Then I take the ends of the swiss chard on each side and tuck them in as I roll up the swiss chard a couple of time. Any excess can be cut away and saved for tomorrow's soup or stir fry or in my case immediate consumption. Set aside and complete with the rest of the veggie blanket bundles. (If you are serving these for a dinner party, you can make them up to this point up to 2-4 hours in advance and store in refrigerator)

Brush veggie blankets with a little olive oil on each side and season with salt and pepper. Place veggie blankets on the grill for about 2 minutes on each side or until you just have nice little grill marks. Remove from grill.

Enjoy these delicious little grilled veggie blankets with red pepper pesto for lunch, dinner or even as an appetizer.
Nutrition
Serving:
1
g
|
Calories:
394
kcal
|
Carbohydrates:
16
g
|
Protein:
10
g
|
Fat:
34
g
|
Saturated Fat:
7
g
|
Cholesterol:
22
mg
|
Sodium:
259
mg
|
Potassium:
810
mg
|
Fiber:
5
g
|
Sugar:
9
g
|
Vitamin A:
2882
IU
|
Vitamin C:
51
mg
|
Calcium:
194
mg
|
Iron:
2
mg