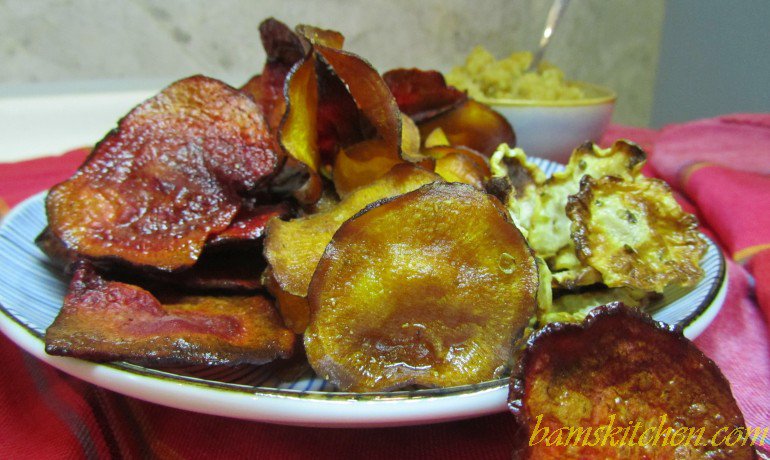 I have been tinkering away in Bam's Test Kitchen and I think I found the perfect dip, sauce, topping and/or culinary cure for even the most meager dishes.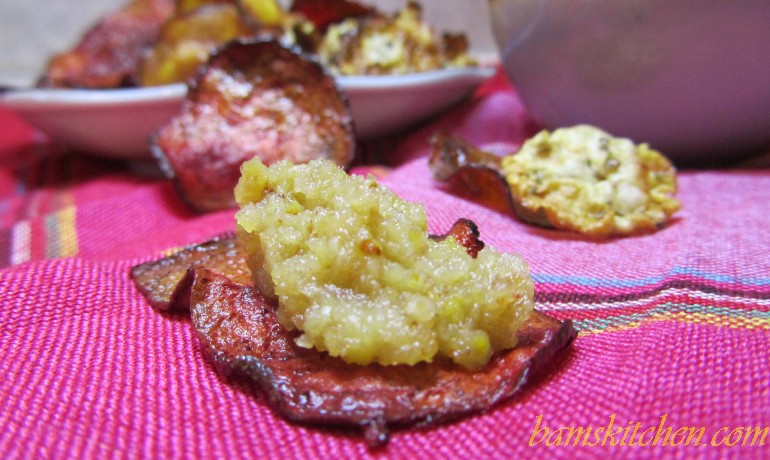 My dearest friend Alice brought me over a huge bag of chestnuts from the wet market, the last ones of the season. I have not had fresh or roasted chestnuts since I lived at home and my mind began to race with culinary ideas. I think I might have just created the most delicious and sinful snack and I don't want to share it with anyone... Ok, well maybe I will let you have a little.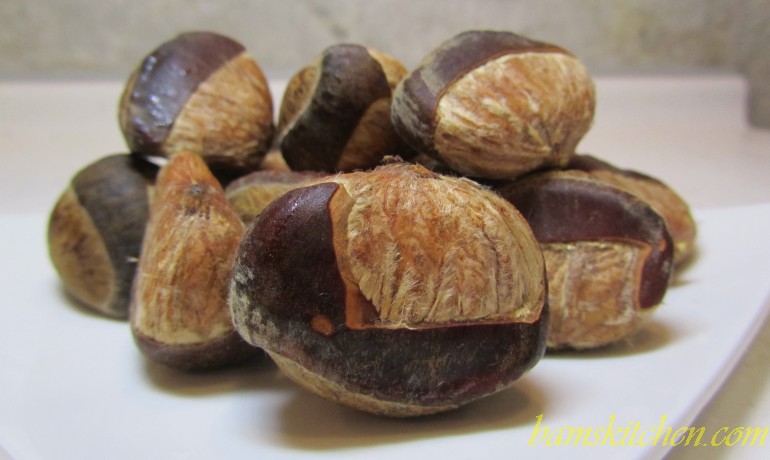 Chestnuts are a type of nut grown in Asia, Japan, Europe, and North America. Chestnuts have a brownish red skin that must be removed before consuming its delicious richly flavored, starchy, and sweet middle.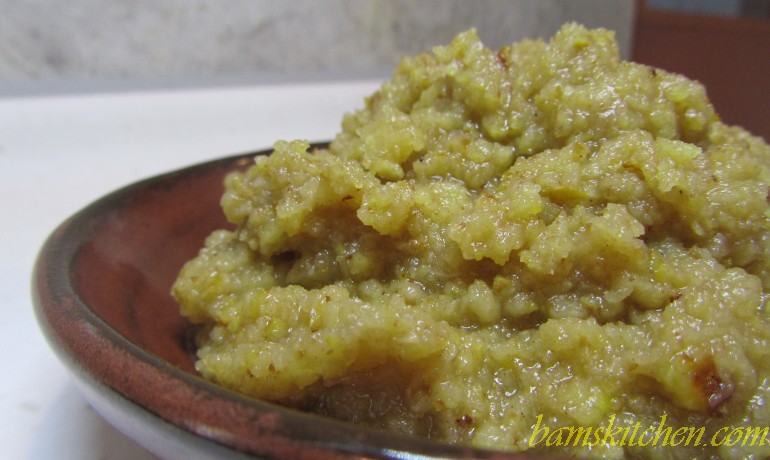 I really had no idea what I was going to make. I began by boiling my chestnuts for a few minutes just so that I could get the skins off and look at the integrity of the chestnuts. A few bad ones in the bunch but almost all were beautiful and ready for some culinary action. I sat there and stared at the chestnuts. My chestnuts were like a blank canvass, just waiting for the touch of a painter's brush.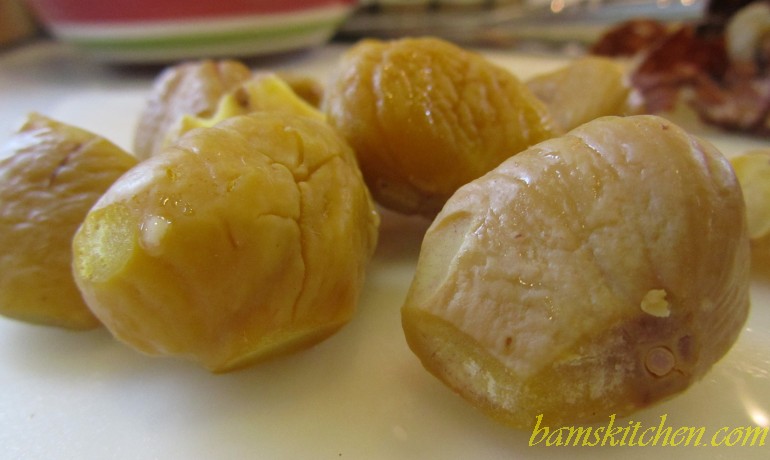 Then I put a little oil olive in the pan and threw the chestnuts in the pan and I waited for the aroma to catch my nose. They have an earthy, nutty and sweet aroma while they are roasting. Hmmm.. Should I make something sweet or savory? Then out of the corner of my eye I glimpsed as a head of fresh garlic in my pantry. I pounded a few whole cloves on the counter, peel and all, and through them into the pan as well.... it is now going to be savory. Ohhh and that gorgeous aroma waving through my kitchen.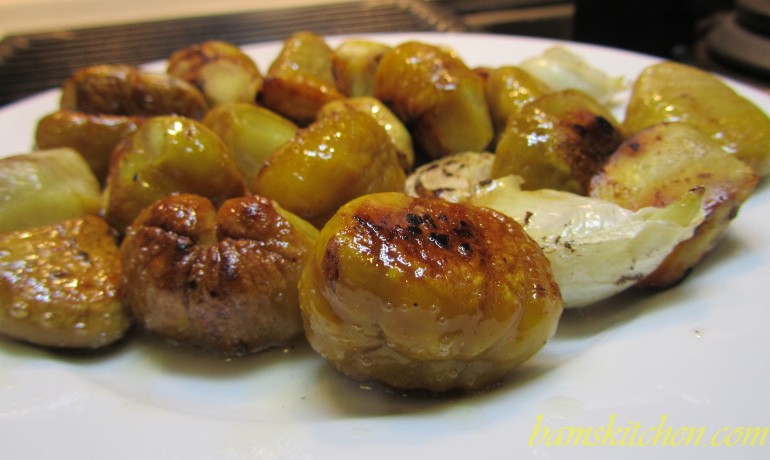 I tested one of the chestnuts that had broken and it was so creamy and delicious and rich. I chopped up the roasted chestnut and roasted garlic and sent it through the blender with a tad of oil and sea salt and it was just divine. I just could not stop eating my little chestnut and roasted garlic puree, spoonful after spoonful.
This is the most amazing chestnut roasted garlic hummus dip. It is smooth, creamy, nutty, naturally sweet, slighty savory, has a touch of roasted garlic flavor and tastes amazing just one spoonful after another. I do not know if chestnut hummus is the right naming convention for my invention, but kind of looks like hummus. Now all I needed was a transport device to get this delicious chestnut hummus from the bowl to my mouth.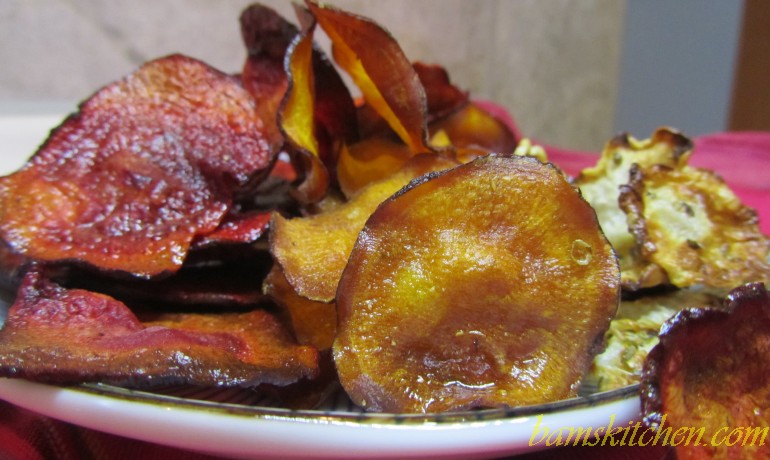 I began to look in my kitchen at my inventory to see if any inspiration would catch my eye. I was just looking for a lonely rice cracker would suffice, but none to be found. I wanted something crispy, salty, gluten-free, egg free, and lactose free that I could whip up in a flash. I currently have a pantry full of root veggies that needed to be put out of their misery, so veggie crisps it is. I have made veggie crisps (chips) before to use as garnishes with potatoes, yams and lotus roots. Lets see what I have in the pantry today... I have a Japanese sweet potato (kind of normal), a beet root (kind of normal) and a diakon radish (definitely not normal, but after all this is Bam's Test Kitchen).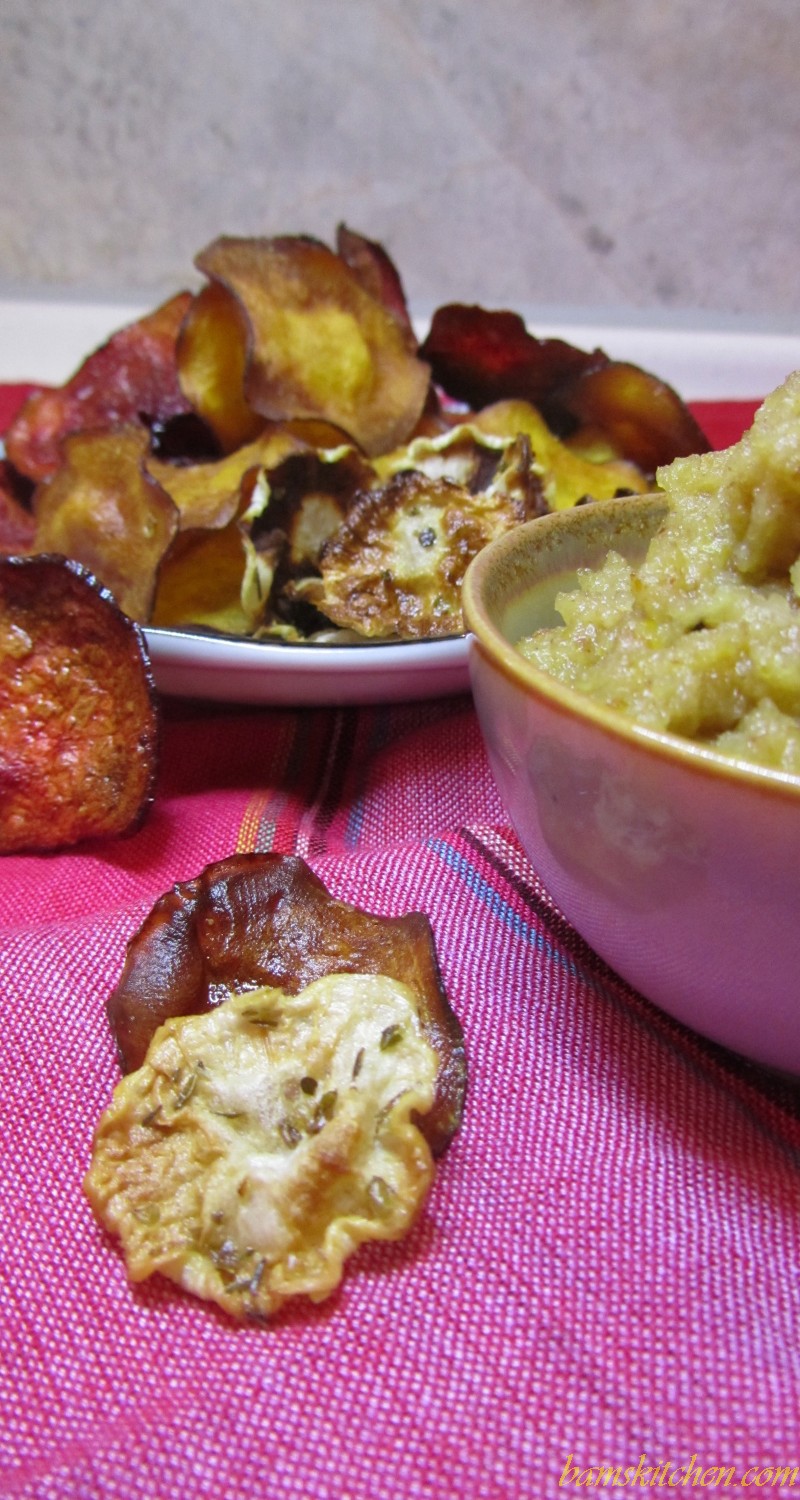 Oh goodness did I really throw away that dreaded beast of a mandolin that sacrificed my index finger a few months ago. I found it tucked away high in the cupboard. You know the best way to deal with your fears is to fight back. I took the beast out of the cupboard. No blood stains to be found on her but she was very guilty of a crime.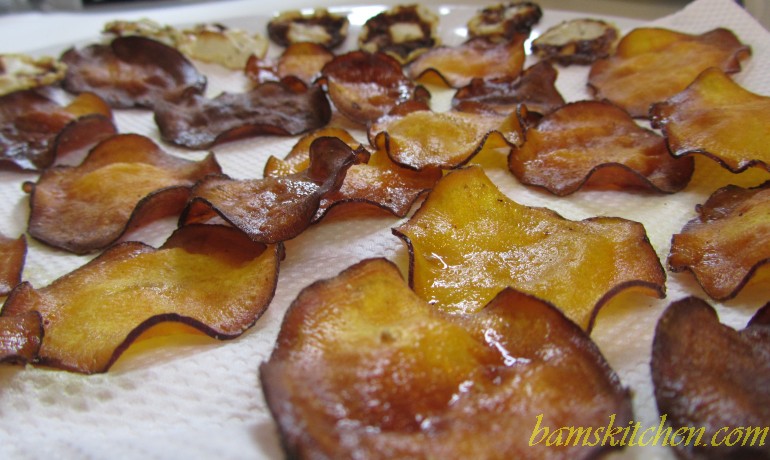 I spent almost a full month not being to get my finger wet and 2 trips to urgent care and now this mandolin lays there before me. The best way to deal with criminals is to protect yourself. I am older and wider this time. I wore heavy weight gloves and used a towel as a shield from the criminal (mandolin). I began to shake and quiver and then very, very slowly and carefully sliced the root vegetables into ultra thin slices.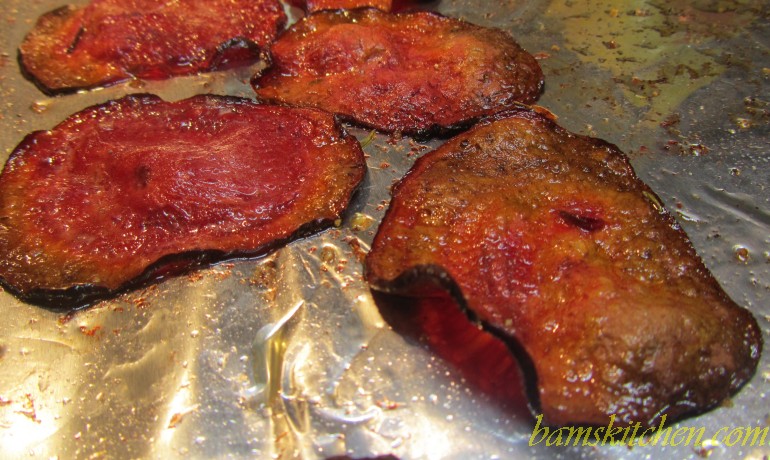 The vegetable crisps take only between 8-15 minutes to cook depending on the type of root vegetable, how big and how thin they are. The beet roots I made plain with just a little olive oil spray and sea salt. I spiced up the sweet potatoes with a little cumin, coriander and sea salt and these were quite delicious. However my favorite was the very innocent diakon that I seasoned with a little oregano and seasalt. I think they look like little sand dollars and flavors matched perfectly with the chestnut dip and complemented each other well. I think you could use any root vegetable you like and have fun with the seasonings. Maybe put a little curry powder and garlic on potato slices or a little 5 spice powder on your lotus roots. You get the idea... have fun with it. It is your kitchen.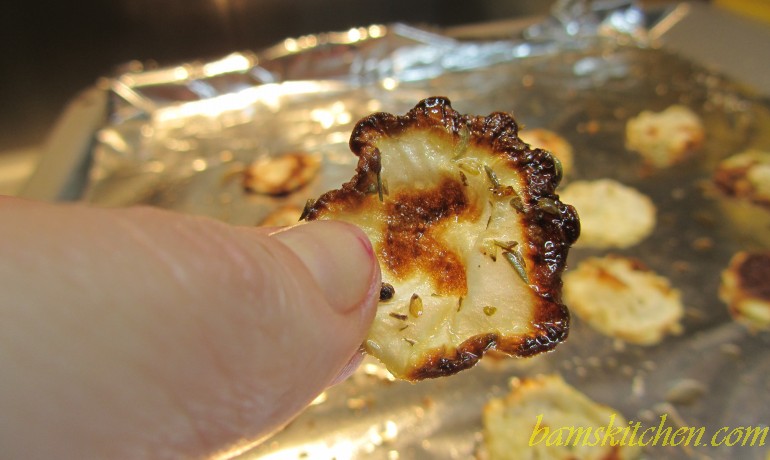 It has been rainy, cold, windy and miserable in Hong Kong for the last three weeks. To top that off, my youngest teenager has been sailing the high China seas this week with this extreme weather. I think our parents may have called this a "character building experience".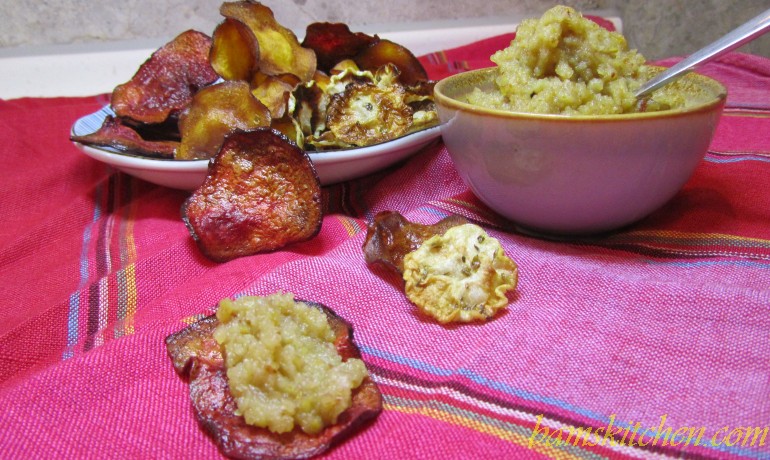 Chestnuts are a warming vegetable, good for your muscles and good to strengthen the spleen qi, according to TCM (Traditional Chinese medicine). My grumpy cold teenager sure needs some warming up and a little bow tie pasta tossed with a little chestnut hummus, fresh basil leaves garnished with a little parmesan cheese is just the ticket to warm him from the inside out. This little chestnut roasted garlic hummus dip can be used in so many dishes; chestnut ravioli, salad dressings, pasta, soups, topping for baked white fish, and the list goes on and on....Lets start by making the delicious chestnut hummus and veggie crisps.
Veggie Crisps with Chestnut Hummus Dip
Chestnut hummus dip is smooth, creamy, nutty, naturally sweet, slighty savory, has a touch of roasted garlic flavor and tastes amazing just one spoonful after another.
Print
Pin
Rate
Ingredients
Chestnuts - whole fresh about 1 pound or about 25 chestnuts

water - enough to cover the chestnuts in a medium pot

garlic - 3 cloves whole (leave skin on)

olive oil - ¼ cup or more to blend into a creamy dip and 1 teaspoon to pan roast the chestnuts

sea salt - ¼ teaspoon or to taste for chest nut hummus and 1 tsp or more as needed for seasoning veggie crisps

diakon radish - 24 slices cut thinly with a mandolin

japanese sweet potatoes - 24 slices cut thinly with a mandolin

beet root - 24 slices cut thinly with a mandolin

olive oil spray - spray pan and root vegetables on both sides

oregano - 1 teaspoon

cumin - ¼ teaspoon

cardamom - ¼ teaspoon
Instructions
Make an "X" with a sharp knife on the flat side of each chestnut to make it easier to peel after they are boiled. (Be very careful as the skin is very tough, maybe a rough edged knife like a bread saw might work good for this) My chestnuts were already partially peeled as that is how they prepare then in the wet market. However, most generally in other parts of the world, they will not have been prepped.

Place your prepped chestnuts in a pot and cover with cold water to cover. Turn on the burner to high. When the water boils, set your timer for 3 minutes. Then turn off the burner.

Take out only a few chestnuts out of the hot water at a time and peel, Start at one end of the "X" and peel back and the skin should slide off pretty easily. If not, maybe you need to boil then for a minute longer. (Do not remove all the chestnuts from the hot water all at once as if they cool down it will be very difficult to peel, just take out a couple out at a time)

Remove or pitch any chestnuts that have mold or are brown or have blemishes. (Fresh chestnuts do not have a long shelf life. Prepare them within 3-5 days of purchasing and store in refrigerator)

Place about 1 teaspoon of olive oil in a frying pan and heat up to medium heat. Bash the whole garlics with the skins on the counter with the flat side of the cleaver. Add the chestnuts and garlic to the pan and gently roast until slightly golden and aromatic. Take out of pan to cool.

Roughly chop the chest nuts and remove the skin of the roasted garlics and place these items into you food processor. Add about ¼ cup olive oil and sea salt to taste. Process mixture until smooth and creamy. A little bits of chunks are actually nice as thy give the dip a bit of texture. Set aside and try to refrain from eating all the dip before your veggie crisps are out of the oven.

Make your veggie crisps: Preheat oven to 200 celcius (390 F). Wash and thoroughly dry all root vegetables. (They need to be really dry, so I even put mine in front of a fan to speed up the process) I personally like the peel on the veggies so did not even bother peeling mine. Use your mandolin (use gloved protection on your fingers, use a mandolin guard, remember the mandolin is not your friend and if for one little minute you let your guard down you will be the 9 finger bandit) to very very carefully slice your root vegetables super thin.

Place you vegetables in a bowl and use spray oil or a little olive oil to coat both sides. I seasoned my beet roots with just sea salt, I seasoned my Japanese sweet potatoes with cumin, cardamon and sea salt. I seasoned my diakon radish with oregano and sea salt.

Spray your baking sheet with spray oil and lay your thin root veggies slices in a row not overlapping and in a single layer. Don't crowd root veggie slices as you want to make sure they have optimal baking so they get crispy and all moisture is removed. Bake them for about 4 minutes on one side and gently flip over and put back in oven for another 4-8 minutes. You need to watch them closely as they cook fast after you flip them. The goal is to take them out when they look like they are just turning brown all over but not burnt. This is tricky. I always verge on the side of error and take them out for a moment when they look ready as they will continue to crisp as you need to leave them on the baking sheet for about 5 minutes when you take them out of the oven. If they are not crispy or are still moist, just pop them bake in the oven and watch closely. I can't give you an exact time as each veggie has a different moisture content, size and type. However, the beet roots took almost 12 minutes, my sweet potatoes 10 minutes and my diakon about 8 minutes.

Serve veggie crisps hot out of the oven with the delicious chestnut roasted garlic hummus.

Not that I would ever have leftovers in a household with teenagers, but if you did, the chestnut hummus needs to be refrigerated and I would use within 3 days. Veggie crisps are best when eaten fresh out of the oven. If you have leftovers, store in aluminum foil and reheat in oven to remove moisture before eating. Don't store in tupperware container as this will create moisture.
Nutrition