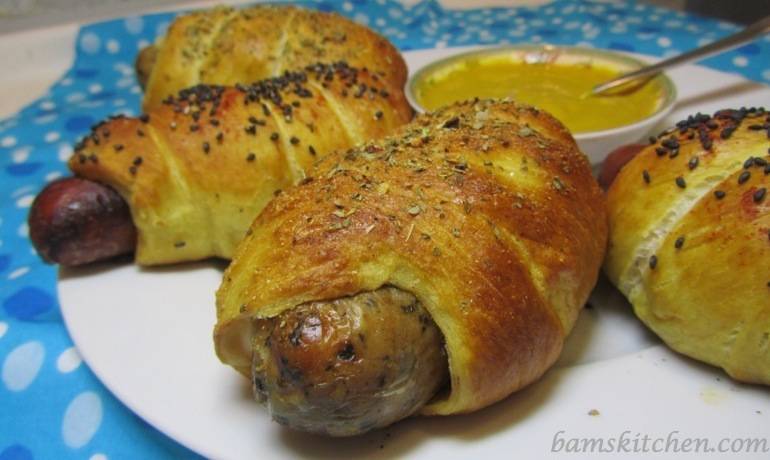 Now don't go worrying your little heads. We have not done any animal testing here, nor has Buddy (our 11 week Yorkie puppy) been tied up in a knot.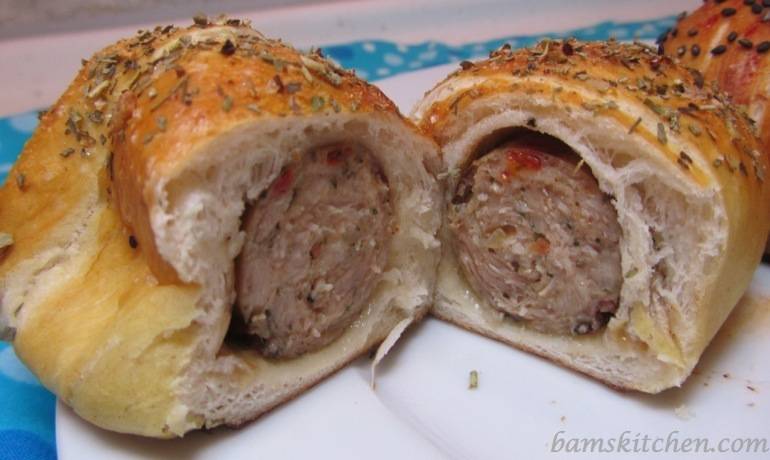 Instead, we made some fun and delicious cheesy dogs twisted in a cozy pretzel blanket and topped them off black sesame seeds. We baked them to toasty perfection and then plunged them into zesty hot mustard dipping sauce. For the adults, we grilled sun dried tomato turkey sausages and bundled them in a soft pretzel, topped with a little Tuscan seasoning and enjoyed a warm pizza sauce for dipping.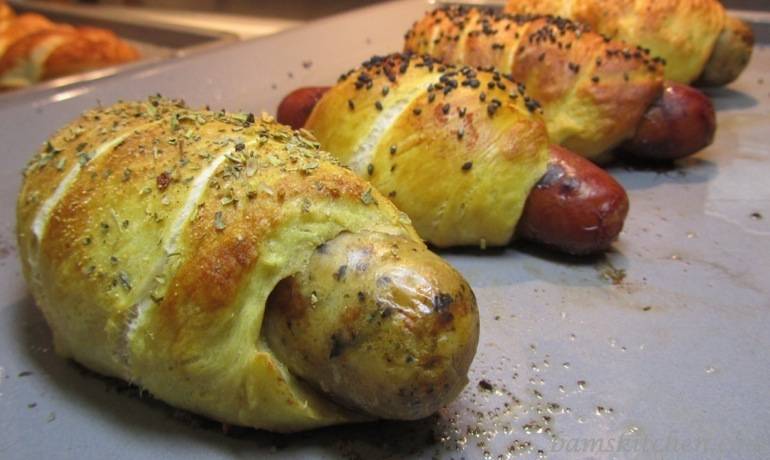 If you are looking for a fun idea to do with your kids on the dog days of summer, this is a very delicious way to put dinner on the table or even as a snack. My kids enjoy their food even more when they making it with their own two hands. The Twisted Dogs recipe does not technically have anything green in it, so this is a winner recipe with kids.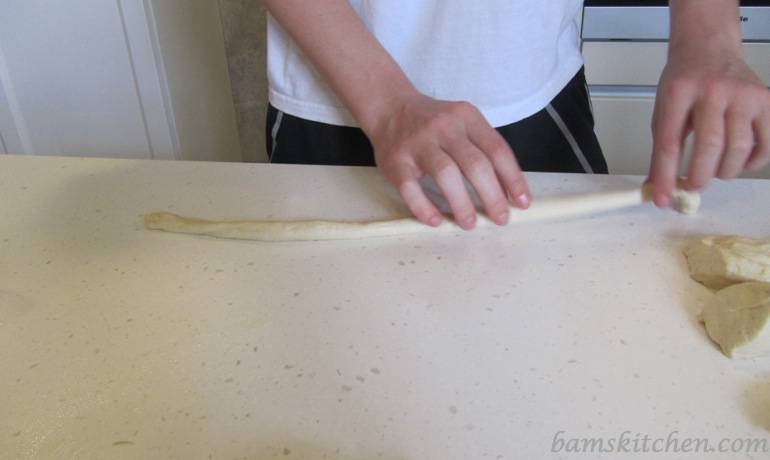 Do you remember 1st year anniversary Post with Sibella's pretzels https://www.hwcmagazine.com/international-cuisines/german-cuisine/bamiversary-bavarian-pretzels/ ?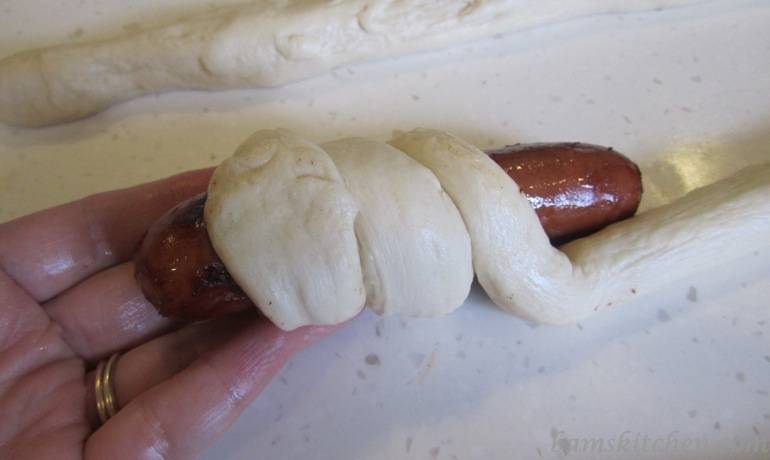 Today, we are celebrating Bam's 2nd year Blogiversary with Sibellas' pretzel recipe http://bakingwithsibella.com/2012/02/11/pretzels-remembering-southern-germany/ but in a "Twisted Dog" recipe.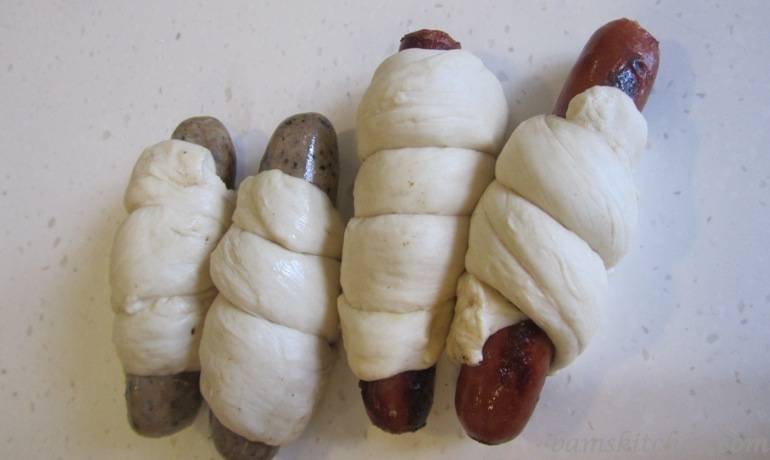 I thought it was quite fitting to celebrate with my boys. After all, if I did not have teenagers in the house, I would not have to do SOOOO much cooking.
I want to send out a big thank you to all of my dear followers for your support. You are constantly inspiring me to try new things. Thank you for challenging me to get out of my comfort zone and into the Test Kitchen. I have had loads of fun this year creating new dishes. I am delighted to have meet so many fun foodies in the last couple of years. The world seems like a really small place and very special with each of you in it.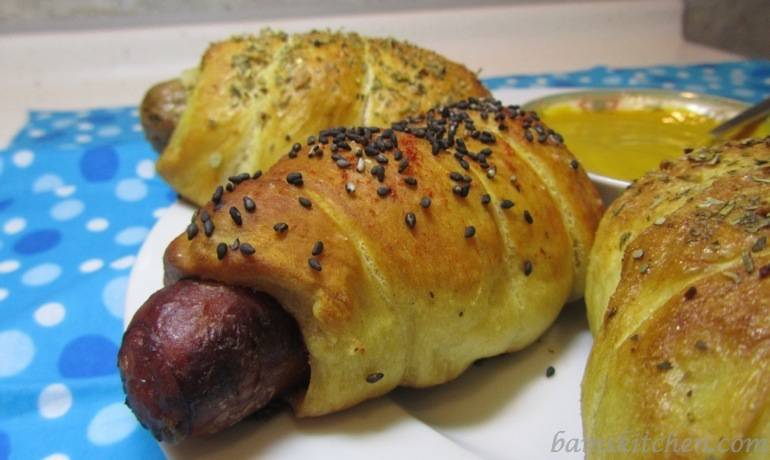 It is still raining in this part of the world! We have had typhoons, monsoons, sideways rain and generally speaking dismal weather. However, I think Hong Kong actually gets most colorful when it rains.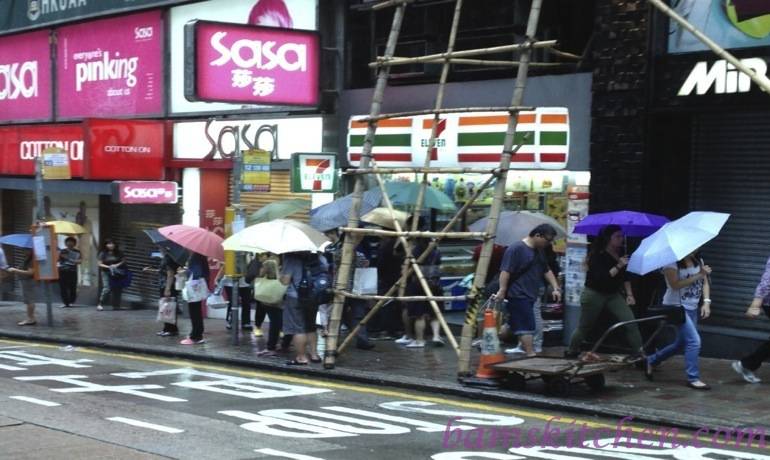 The rainbow of umbrellas paints the streets in all the newest high fashion colours and designs. I was in Central on Queens Road and was up to my ankles in water, as it was raining more than the drainage system could handle. It was a great day to wear my wellies (rain boots). I was on a mission to get supplies for the homemade pretzels.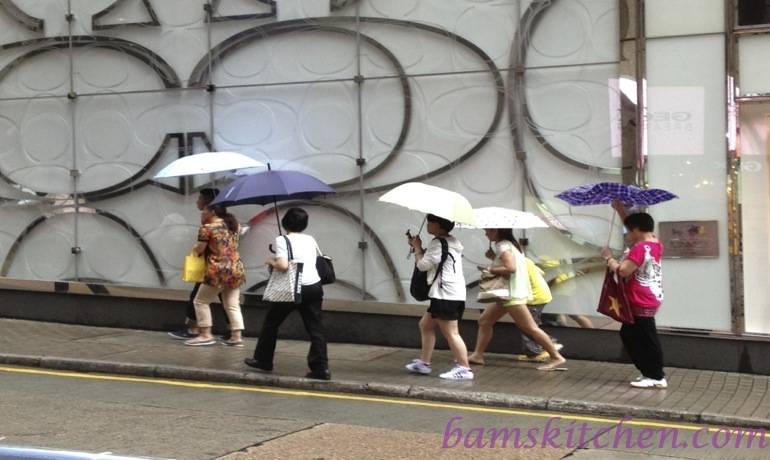 You probably already have everything you need to make make these delicious twisted pretzel dogs right in your own pantry. I did not. Our local park n shop is the place to go if you need to fetch your self some last minute toppings for your congee like some 1000 year old eggs. Maybe your fresh out of fish heads for your soup? Or maybe your having the in laws over for a little gathering and need to make some pickled chicken feet? Well, you have come to the right place. However if you want some real exotic imported items like flour, eggs or milk you best head into the specialty market in Central.
We have had the world record of dog days of summer and my teenagers are getting restless, hungry and bored. So lets go have a little fun in the kitchen and make some Twisted Dogs.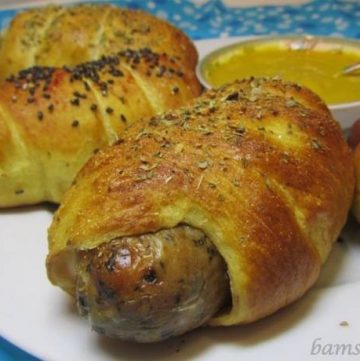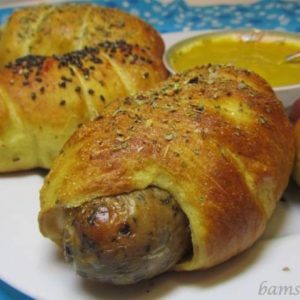 Twisted Dogs
Fun and delicious cheesy dogs twisted in a cozy pretzel blanket and topped them off black sesame seeds, baked to perfection and then plunged them into a little zesty hot mustard dipping sauce
Print
Pin
Rate
Ingredients
bread flour - 3 ¾ cup (500 g)

yeast - 1 package

salt - ½ TSP

butter - 3 ½ TBSP (50 g) room temperature

milk - 1 cup (250 ml) warm

water - 3 quarts (3 liter) boiling

baking soda - 5 tbsp

Egg yolk - mixed with a little water

turkey cheese dogs - 8

turkey sausage - 8 sun dried tomato

pretzel salt - 2 tablespoons

black sesame seeds - 2 teaspoons (optional)

Cayenne - sprinkle (optional)

tuscan seasoning - 2 teaspoons (optional) basil, oregano, rosemary, garlic, dried red bell peppers
Hot Mustard Sauce
yellow mustard - ½ cup

hot sauce - few dashes (To taste)

brown sugar - 2 teaspoons
Tuscan Sauce
pizza sauce - ½ cup

parmesan cheese - sprinkle for topping
Instructions
Preparation:

Step1: Sift the flour mixed with salt into a bowl and make a small hole in the middle. Thinly slice butter and place around the hole.

Dissolve the fresh yeast in the warm milk and start pouring into the flour, mixing at the same time.

Knead the dough by hand for at least 5 minutes. Dough will be quite firm and smooth and not sticky at all. Form a dough ball and let it rest covered for about 30 minutes. ( I covered my dough for one hour until my dough doubled)

Place the dough on a work surface and cut into 16 equal pieces. Form the dough into 16 long rolls.

Butter the baking pan. (Do not use parchment paper!)

Boil the water and add the baking soda. Adding soda to the boiling water will make quite a reaction, so be careful!!! Let the water simmer.

Grill your hotdogs and or sausages in a pan or on your grill. Preheat your oven to 395 degree F (200 degree Celsius)

Wrap the pretzel dough around each cooked cheesy turkey hot dogs/sun dried tomato turkey sausage and pinch the ends so they do not come undone during the boiling or baking process. I like to leave a little of the hot dog peaking through on each side and just wrap in the centre.


Place each pretzel, using a slotted spoon, in the boiling water bath solution for about 30 seconds. Remove and place buttered baking sheet.

Beat egg and water and brush on top of your twisted dogs. Garnish with pretzel salt. We garnished the cheesy dogs with black sesame seeds and cayenne pepper and the sun dried tomato turkey twisted dogs with Tuscan seasoning.

Bake your twisted dogs for 12-14 minutes or until nice and golden brown.

Prepare the dipping sauces.

Hot Mustard Sauce: Place yellow mustard, hot sauce and brown sugar in a small bowl and mix.


Pizza sauce: Heat up prepared canned sauce and top with grated parmesan cheese or please visit https://www.hwcmagazine.com/mains/beef/spaghetti-and-meatballs-with-grandmas-sauce/ for a great basic tomato sauce.


Serve and enjoy hot from the oven with dipping sauces.
Nutrition