Salmon Parcels with Sweet Red Bell Pepper Pesto is made with salmon wrapped up with a few crispy layers of phyllo dough stuffed with a medley of sweet colorful peppers, caramelized onions and then dipped into a delightful red bell pepper pesto.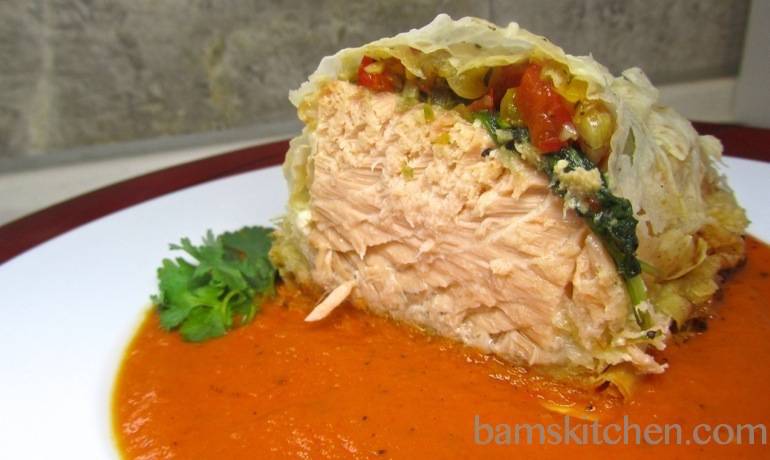 Why you are going to love our Salmon Packets with Sweet Red Bell Pepper Pesto
Packed with brain-boosting omega 3 fatty acids salmon is incredibly good for you and I found a way to make even the pickiest fish eaters come back for seconds.
Sweet succulent salmon wrapped up with a few crispy layers of phyllo dough stuffed with a medley of sweet colorful peppers, caramelized onions and even sautéed rocket and then dipped into a delightful red bell pepper pesto. My favorite part is plunging my fork into the light crispy phyllo as it makes that delightful crunch.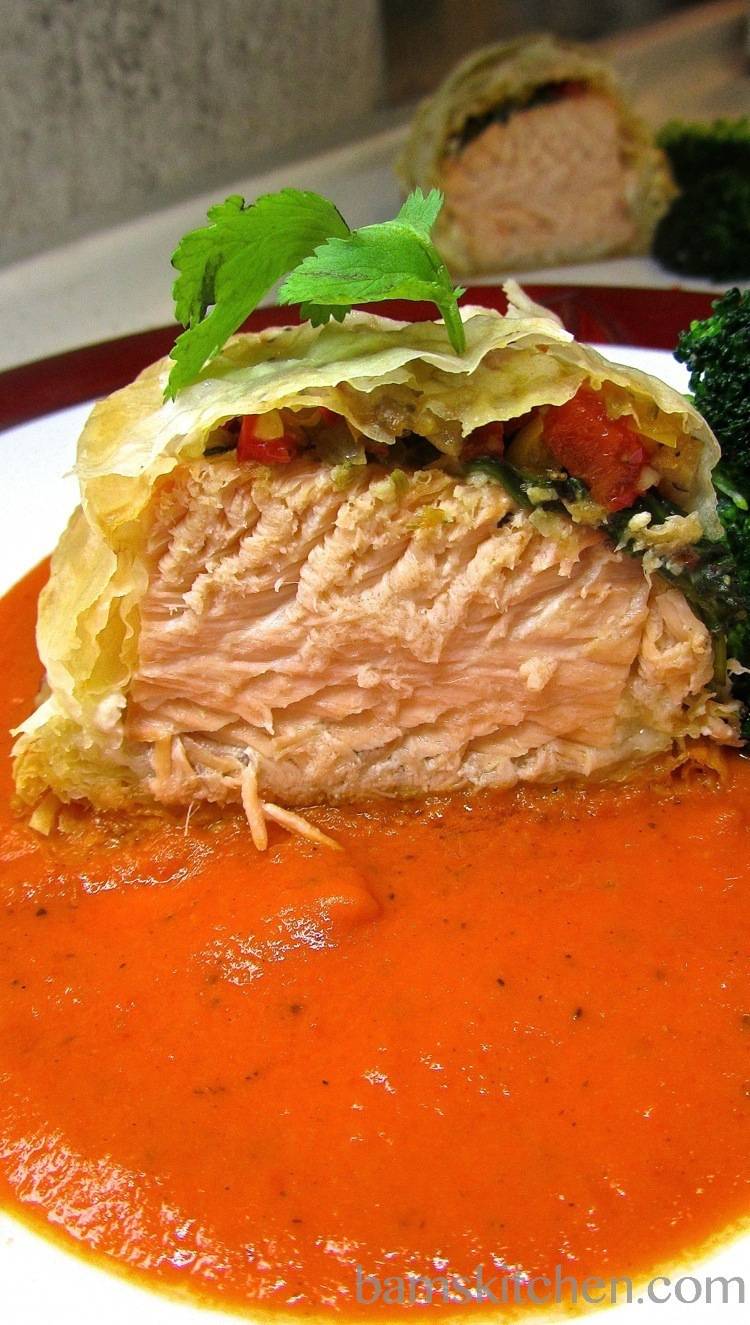 Salmon parcels with sweet red bell pepper pesto is a meal in one and served with a delightful salad, it is complete.
Great news for everyone living in the arctic temperatures...my dad saw a robin this week. (In Michigan, we always associate the return of our State bird with spring like temperatures.) Unfortunately, this robin was found dead laying under about 14 inches of snow. Poor little guy flew back a little early I guess.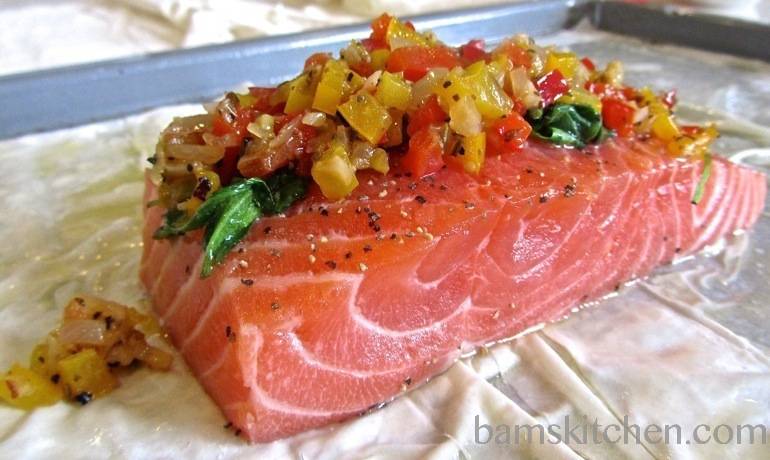 However, this weekend I heard that it is supposed to get up to about 30 degrees F (-1C). Woohoo! It's a heat wave! Crack out those flip-flops and Bermuda trunks. I don't want to sound like I am rubbing it in or anything living in Hong Kong so to make you feel better we have had about a week of misting damp dreary windy and cooler weather. I am most certainly not wearing my flip-flops or Bermuda trunks this week.
As a matter of fact, I am still craving some warming comfort food slightly lightened up and these salmon parcels with sweet red pepper pesto is just the perfect mix of winter and spring converging together.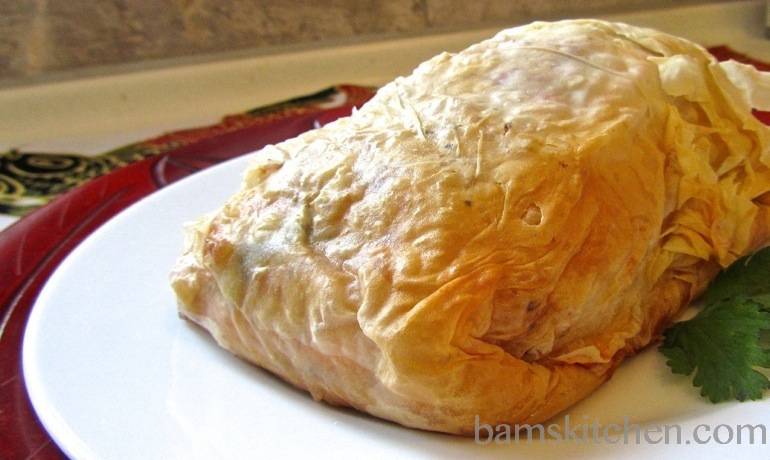 Turn Fish Haters into Fish Lovers
As you know, my boys hate fish. They actually despise it so much I always need to disguise it. My first technique is obviously hiding the fish from plain view with the crispy phyllo dough. My second secret strategy was to put in some delicious vegetables to add some delicious flavors to the mix. I chose red and yellow peppers as they are sweet and these are vegetables my boys will actually eat. I chose to put in a few caramelized onions as these always make everything taste a little better.
Next, I wanted something a little green for a contrast of color. I was fresh out of spinach so I exchanged with a little sautéed rocket. No, really I cooked rocket and it was fantastic. Rocket (arugula) has a peppery flavor and it was a perfect accompaniment to salmon, with its more pronounced flavors.
As a last layer of security, I drizzled a little sweet red pepper pesto on the plate. If you take a little piece of the crispy phyllo dough, salmon, vegetables and a little bit of the pesto on the end of your fork it is like a little bite of heaven. Each flavor of the dish compliments each other well.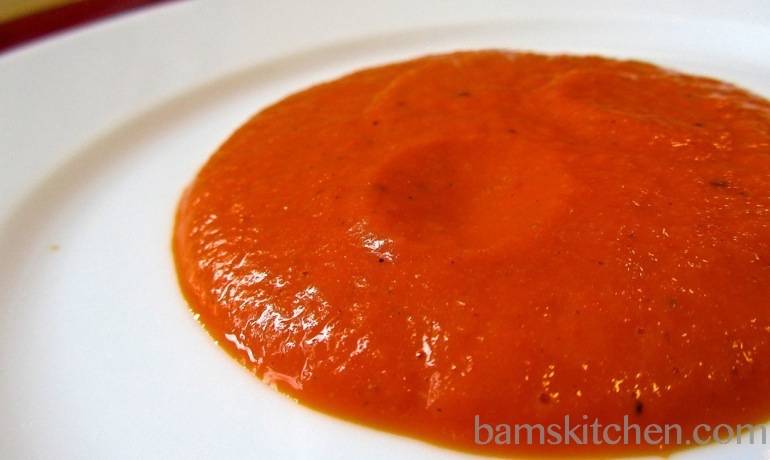 The "hot sauce factor" Recipe Rating System
No Hot Sauce at the table- "This was fantastic mom, please make this again."
Hot sauce brought out to the table, but then not used- Very good and we might try it again.
Couple of drops of hot sauce drizzled on top- This was not my favorite, it was okay but don't want to see this recipe again for a very long while.
Hot sauce slathered from one end of the plate to the other and multiple hot sauces types displayed at the table- "Gross mom, I am so not eating that."
My boys have rated a "Fish dish", none the least, "a hot sauce brought to the table and then not used". This is amazing my kids ate fish and they said they might even eat it again. My own personal triumph here and they even looked up from their iPhones to give a nod. Teenagers and technology are never too far apart.
Recipe Exchanges
Exchanges for items that you do not have in your pantry are always welcome. This Salmon Parcels with Sweet Red Bell Pepper Pesto is just a concept but your refrigerator and pantry make the dish. Maybe you want to exchange the vegetables stuffed inside the parcel for leeks and asparagus to celebrate spring and maybe you serve it on an avocado mash or with a lemon butter sauce instead. Or maybe you like other kinds of fish instead, go for it. This is your creation. The one and the only thing you cannot exchange is margarine for real butter. You have to trust me on this as if you do you will end up with soggy and wet phyllo dough.
You can assemble these salmon parcels during the day and then bake them in the evening. I know everyone always thinks of ham for Easter but this might be a delicious and easy way to host a gathering.
More Delicious Salmon Recipes
Balsamic Glazed Salmon and Roasted Root Vegetables
Baked Pomegranate Glazed Salmon
Baked Spicy Salmon and Sweet Potato Kale Hash
One Sheet Pan Dilly Lemon Salmon
Kimchi Salmon and Rainbow Pickles
Sensational Summer Citrus Salmon
Hungry For More? Subscribe to our Newsletter and follow along on Facebook, You Tube, Instagram, and Pinterest for all the latest updates.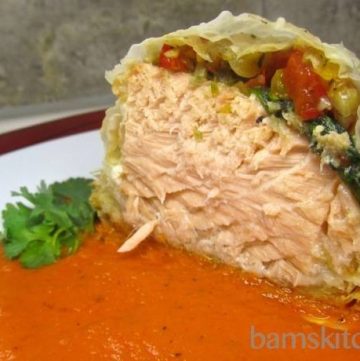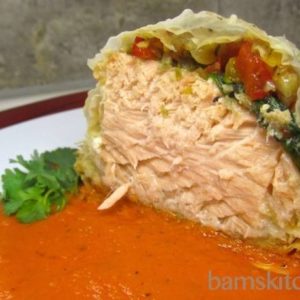 Salmon Parcels with Sweet Red Bell Pepper Pesto
Salmon Parcels with Sweet Red Bell Pepper Pesto is made with salmon wrapped up with a few crispy layers of phyllo dough stuffed with a medley of sweet colorful peppers, caramelized onions and then dipped into a delightful red bell pepper pesto.
Print
Pin
Rate
Ingredients
Salmon Parcel
12

oz

salmon

4 fillets- skin removed

12

sheets

phyllo dough


(3 per each fish fillet)

½

cup

butter


melted
Vegetable Medley
1

tbsp

olive oil


½

cup

onion


peeled and chopped

1

clove

garlic


peeled and minced

½

cup

red bell pepper


chopped

½

cup

yellow bell pepper


chopped

2

cups

rocket


arugula - optional or spinach

salt and pepper


to taste
Sweet Red Bell Pepper Pesto
1

onion


chopped and cooked in a little olive olive on top of the stove until caramelized.

3

cloves

garlic


1

cup

roasted red peppers


(Capsicum)chopped (if you only have fresh red peppers you can make your own roasted by putting your peppers directly on the stovetop and let them char on all sides and then put them in a paper bag to cool and then peel and remove seeds)

2

tbsp

basil


fresh chopped

2

tbsp

tomato paste


½

cup

olive oil


or just enough to pull all the ingredients together in the (if you want to conserve on fats you can use half olive oil and half water)

salt and pepper


to taste

1

tsp

Italian seasoning

(basil, oregano, thyme, rosemary, etc.)
Instructions
Unthaw your phyllo dough per packet recommendations.


Preheat your oven to 190 degrees Celsius or 375 F.

Make your vegetable medley: In a small frying pan add olive oil and then add the onions and cook until caramelized. Add your garlic, red and yellow bell peppers and salt and pepper and cook until vegetables are slightly softened. Add the rocket just until wilted. Adjust seasoning as desired. Set aside.

Assemble Salmon Parcels: Lay one sheet of phyllo dough on your counter and brush with melted butter over the whole sheet. Next, place another layer of phyllo dough on top of the first and brush this one with another layer of melter butter and repeat this process one more time for a total of 3 layers. Depending on the size of your fish you may want to cut the phyllo dough to fit. Place ¼ of the vegetable medley in the middle of the phyllo dough sheet and then place the salmon fillet on top upside down. Fold the edges of the phyllo dough like you do when you are wrapping a present and seal the sides and top with more melted butter. The goal is that you want the seal side down to be the bottom of the fish and you want the vegetable medley on the top so it looks pretty when your guests cut into the parcels.

Bake Salmon parcels for about 30-35 minutes or until the phyllo dough is golden and crispy. Your fish should flake easily with your fork.

Make your Sweet Red Bell Pepper Pesto: In the food processor, add caramelised onion, garlic, roasted red peppers, basil, tomato paste, olive oil, salt and pepper and Tuscan seasoning. Blend until nice and smooth. Taste and adjust seasonings. This step can be done up to 3 days in advance.

Serve Salmon Parcels on a bed of Sweet Red Bell Pepper Pesto hot out of the oven with a nice crisp salad on the side. Enjoy!
Nutrition
Serving:
1
g
|
Calories:
815
kcal
|
Carbohydrates:
41
g
|
Protein:
23
g
|
Fat:
63
g
|
Saturated Fat:
21
g
|
Cholesterol:
108
mg
|
Sodium:
1065
mg
|
Potassium:
785
mg
|
Fiber:
4
g
|
Sugar:
4
g
|
Vitamin A:
1958
IU
|
Vitamin C:
82
mg
|
Calcium:
79
mg
|
Iron:
4
mg