Muffuletta Pizza is a thin crust gluten-free garlic olive herb studded pizza topped with red roasted bell pepper and sun-dried tomato pesto, ham, salami and special olive Muffuletta toppings.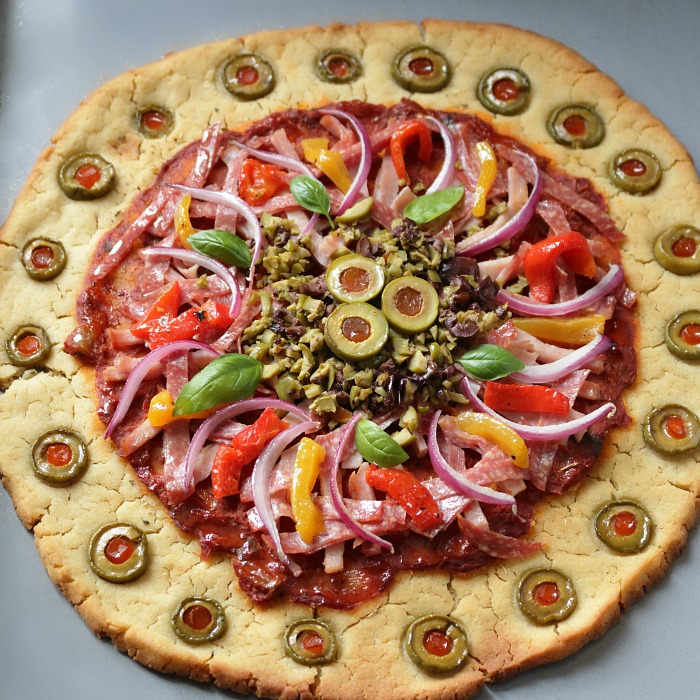 Muffuletta Pizza - The Ultimate Pizza
You are just going to love this muffuletta pizza as the gluten-free crust is crunchy around the edges and chewy on the inside. The mile high toppings and zesty sun-dried tomato pesto base make you forget all about cheese. Well, that is for me at least. However, if you do not have a dairy issue then some crumbled feta, mozzarella or gouda cheese would be amazing on top of the gluten-free Muffuletta pizza. If you want to go vegan, swap out the ham and salami with some grilled eggplant and zucchini and this little pizza will rock your world.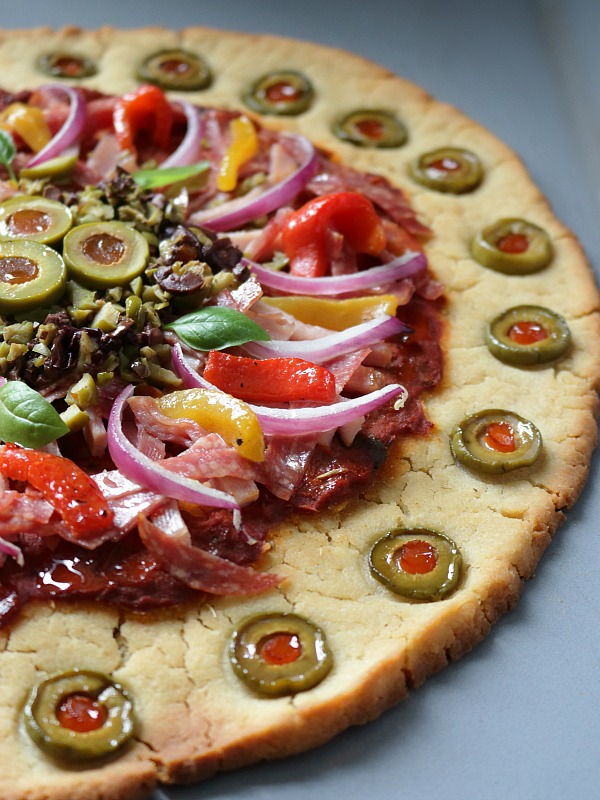 Italian Immigrants in Louisiana
The Italian Immigrants in Louisiana knew how to really celebrate with their delicious muffuletta sandwiches traditionally made with focaccia bread, loads of cheese, ham, salami, olive pressed sandwich. I made a huge 3 foot traditional muffuletta sandwich for my boys with all the fixings and all of that CHEESE. Then I started having a pity party.. Oh woe is me no wheat, cheese or eggs... One big huge pity party!!!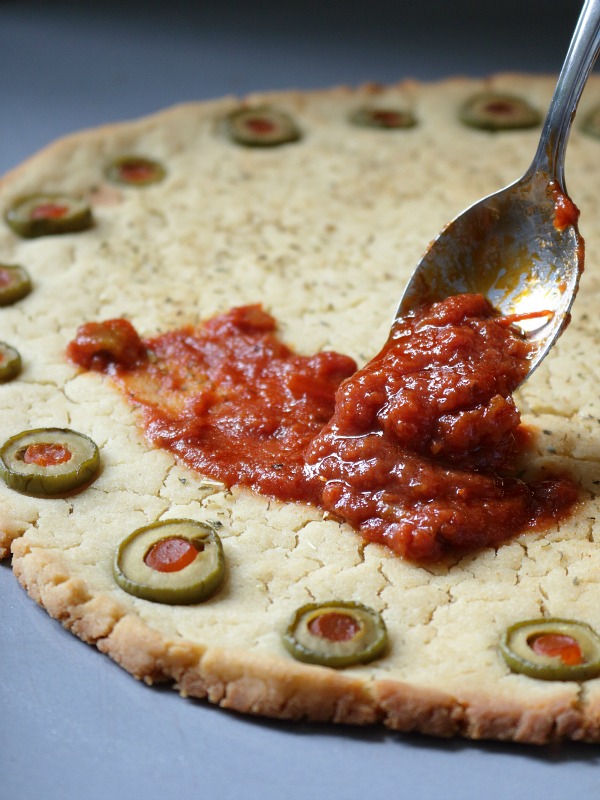 Gluten-Free and Dairy Free
I began staring at the HUGE muffuletta sandwich that weighed in around 5 pounds, that was getting pressed in the refrigerator with a couple of really heavy books. My personal pity part was on full alert and was going to just settle out for a cold boring salad with some of the muffuletta toppings... but I wanted something a little more fun. Something, I could really sink my teeth into! After all, it is Friday night so why do I have to eat a salad, it's the weekend and this girl needs a little fun.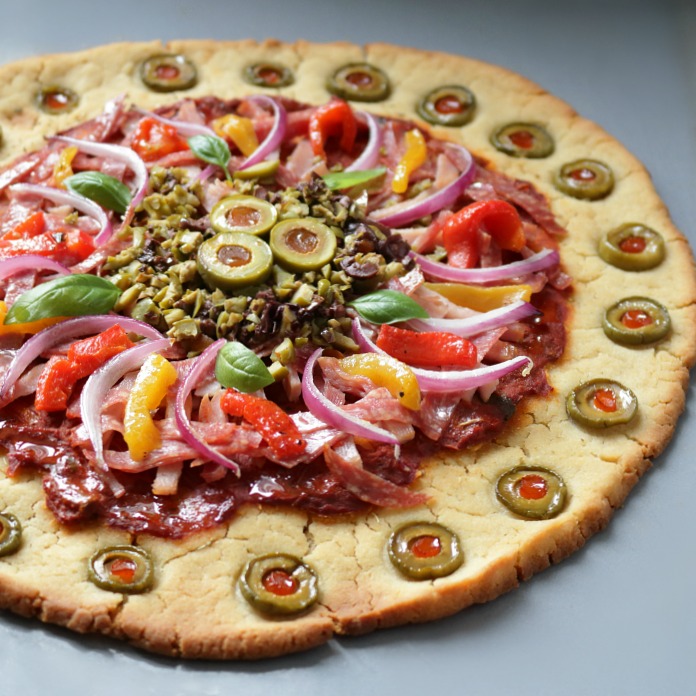 Brilliant idea came from all of the woeful pity party as I found a box of gluten-free pizza crust in my pantry. So it was settled a Gluten-free Muffuletta Pizza for me. Yeah!!!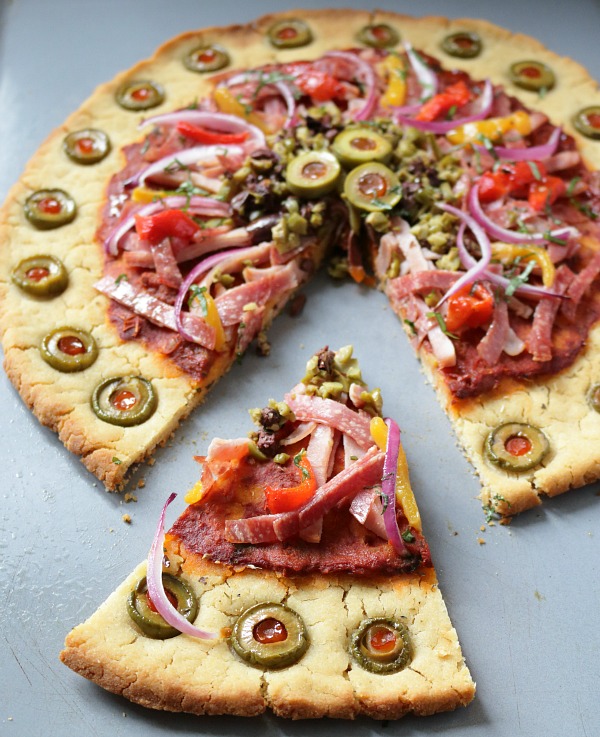 Well, the events after that decision were not as easy as you might think. I know your thinking just dump the box of ingredients with some liquid ingredients mix and your done. WRONG!!!
My first attempt to creating a gluten-free crust did not go well. It was an EPIC fail! I was pressing out the pizza dough into a pan just in front of my kitchen window. A huge big gust of wind caught my Thai basil plant came it crashing down from the window and landed on top of my gluten-free crust. There was no 3 second rule when you have soil embedded into your pizza crust. Another brief pity party....but the thought of cold plain salad was not going to happen tonight.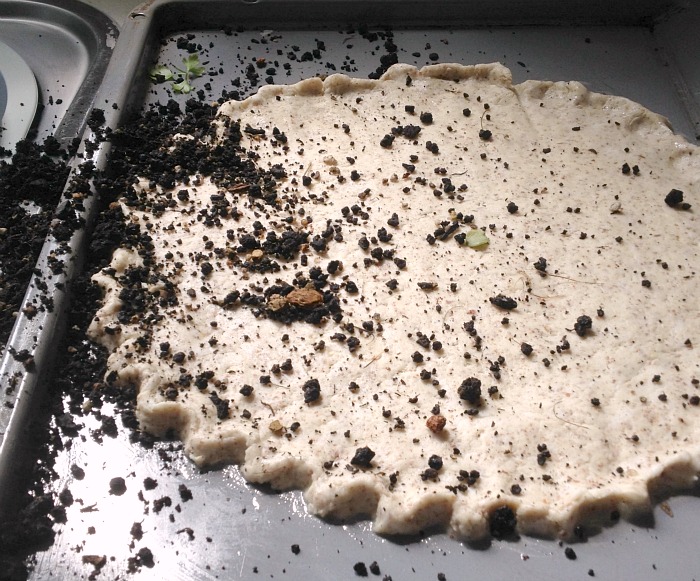 My second attempt went much better as I had closed up the windows and turned the aircon to avoid all risk of a repeated epic fail. I used a delicious recipe from She Likes Food with a few changes and it was absolutely delicious, crunchy edges and chewy crust. Thank you She Likes Food you were a lifesaver! One of the best gluten-free crusts I have ever had. I say this was truly one happy accident that needs to happen again.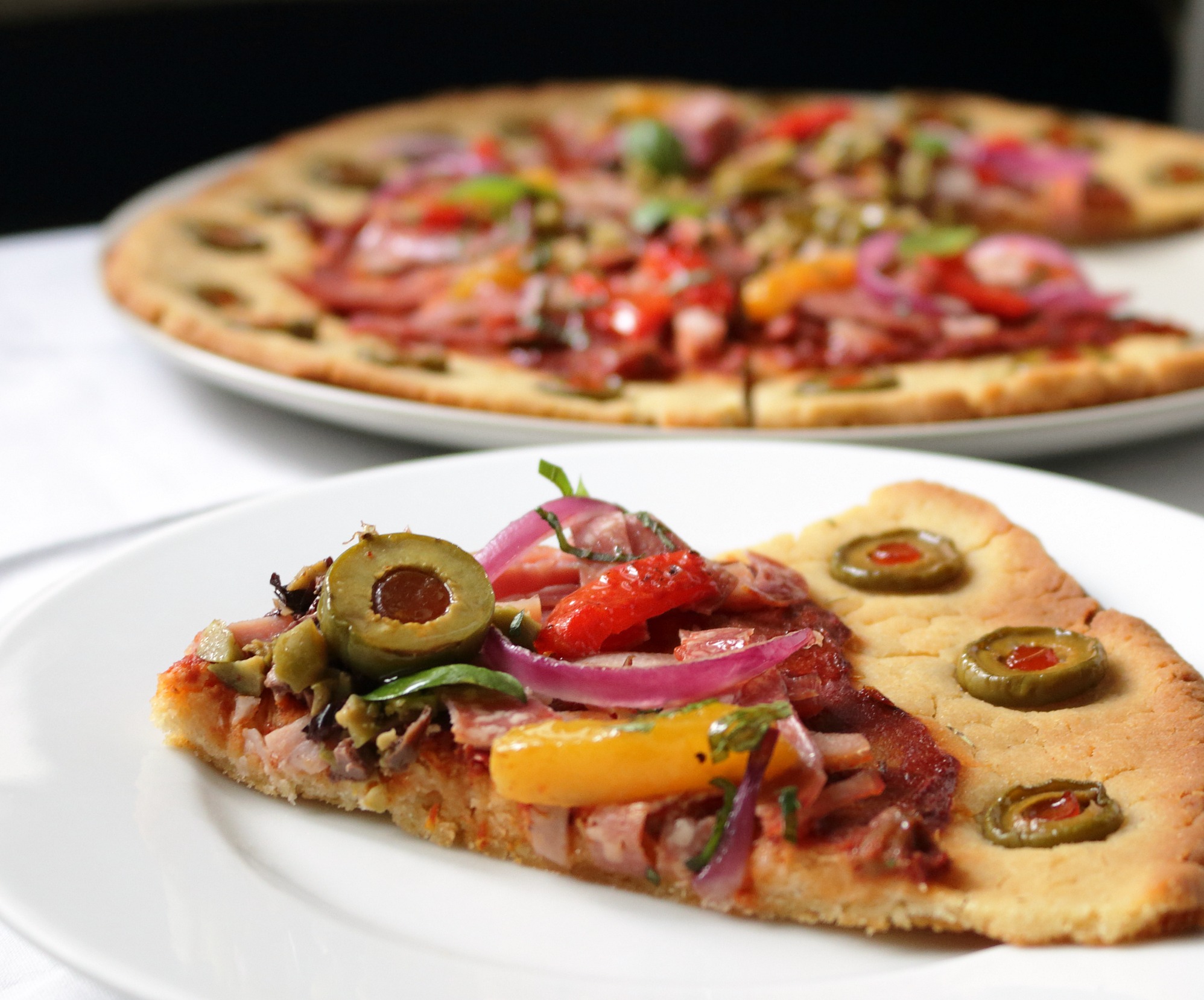 There are going to be lots of holiday gatherings over the next few weeks. Trust me "You can't live on turkey alone", so this is fun and easy Muffuletta pizza is just your ticket for a social gathering. Toss a quick salad on the side and your sorted.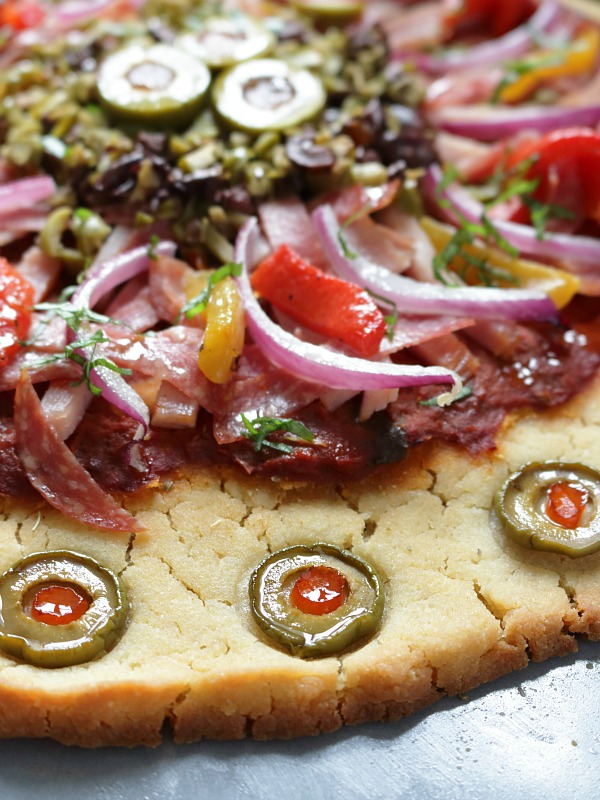 More Delicious Pizza and Sandwich Recipes
Wholly Guacamole Pizza Pizzazz
Stove Top Chicken Fajitas Sliders
Hungry For More? Subscribe to our Newsletter and follow along on Facebook, You Tube, Instagram, and Pinterest for all the latest updates.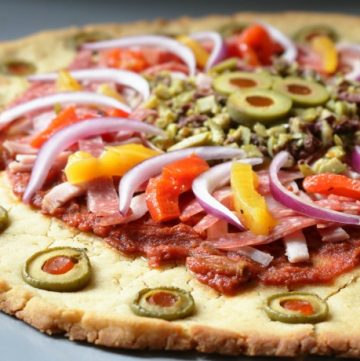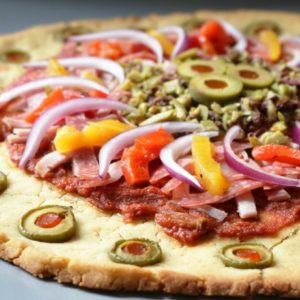 Muffuletta Pizza
Muffuletta Pizza is a thin crust gluten free garlic olive herb studded pizza topped with red roasted bell pepper and sun dried tomato pesto, ham, salami and special olive Muffuletta toppings.
Print
Pin
Rate
Ingredients
Olive Studded Gluten Free Pizza Crust
2

cups

Brown Rice Flour


gluten-free

3

tbsp

Brown rice flour

total 2 cups plus 3 tablespoons

1

package

yeast


dry

1

tsp

salt


1

tsp

maple syrup


1.5

tbsps

margarine


melted dairy free margarine (I used an olive oil spread)

2

tbsps

olive oil


1

cup

water


warm (105 to 110 degrees F)

½

tsp

garlic powder


½

tsp

basil


½

cup

green olives -

sliced (I used stuffed green olives with pimentos)

Muffuletta Pizza Toppings (optional)

¾

cup

3- Minute Vegan Sun- Dried Tomato Pesto


or store bought

¼

pound

ham

sliced thin and cut into matchsticks about 2 inches long


¼

pound

salami


sliced thin and cut into matchsticks about 2 inches long

4

ounces

roasted red peppers

Capsicum) sliced into match sticks


⅓

cup

green olives


chopped

⅓

cup

kalmata olives


pit removed

½

onion

small red cut into thin strips

⅓

cup

basil

to garnish (optional)
Instructions
Make your olive studded herbed gluten free pizza crust-

In a large bowl mix brown rice flour, yeast, salt, maple syrup, melted margarine, olive oil, warm water (105-110 degrees F). Set Aside with a damp tea cloth on top in a warm place for 30 minutes. Preheat oven to 450 degrees F (or 232 degrees C).

Grease a pizza pan or baking sheet and press your dough into about a 14 inch pizza crust. Sprinkle the pizza dough with garlic powder and basil. Press the green olive slices into the outer edge of the pizza dough and bake in oven for about 15-18 minutes or just until the edges of the crust start to get golden brown.

Remove pizza crust from oven and spread the 3 minute Vegan sun-dried tomato pesto onto the pizza crust and spread evenly. Keep about a 1 inch rim around the edge with the olive studded crust without any pesto sauce. Add the chopped ham, salami, roasted red pepper slices, chopped olives and onion.


Bake completed pizza for another 10 minutes just until the crust in golden and the vegetables, ham and salami are aromatic. (Keep an eye on the crust so it does not burn, if you need to you can wrap a little aluminum foil around the edges to the crust does not burn)

Remove pizza from oven, garnish with basil leaves, slice and enjoy.
Notes
If you do not have a dairy sensitivity, feel free to top with cheeses of choice.
Nutrition
Serving:
1
g
|
Calories:
376
kcal
|
Carbohydrates:
40
g
|
Protein:
11
g
|
Fat:
19
g
|
Saturated Fat:
5
g
|
Cholesterol:
22
mg
|
Sodium:
1524
mg
|
Potassium:
258
mg
|
Fiber:
4
g
|
Sugar:
3
g
|
Vitamin A:
448
IU
|
Vitamin C:
8
mg
|
Calcium:
48
mg
|
Iron:
2
mg