Grilled Moroccan Chicken and Pine Nut Quinoa is an Aromatic Moroccan spiced infused chicken, grilled to perfection, and sliced on top of fresh lemon and cumin scented pine nut quinoa. Quick, easy and is the perfect refreshing summertime meal!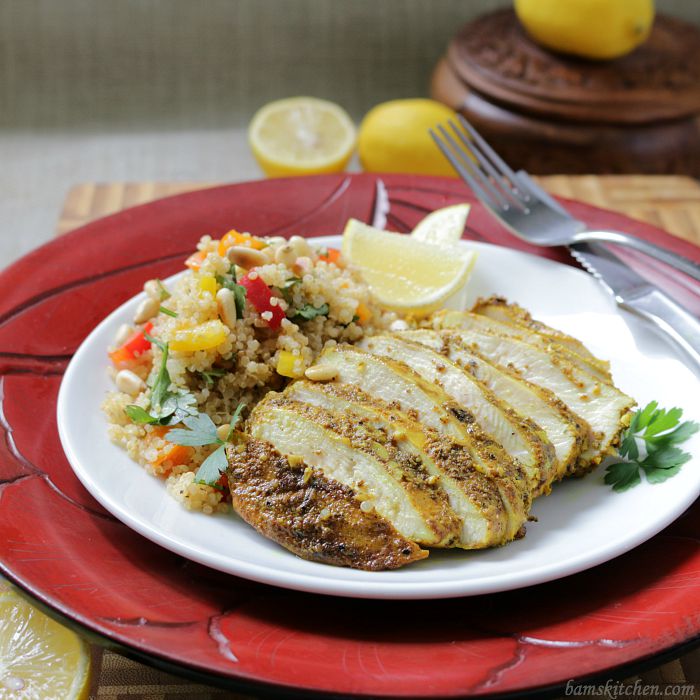 Why you are going to love Grilled Moroccan Chicken and Pine Nut Quinoa
You are just going to love the essence and flavours of the Moroccan chicken as it has depth of flavour and reunites you with your spice drawer. Grilled Moroccan Chicken and Pine Nut Quinoa is happily gluten-free, cardiac friendly, egg free, dairy free and if you opt out of the quinoa salad and swap with a tossed salad this dish is diabetic and paleo friendly too.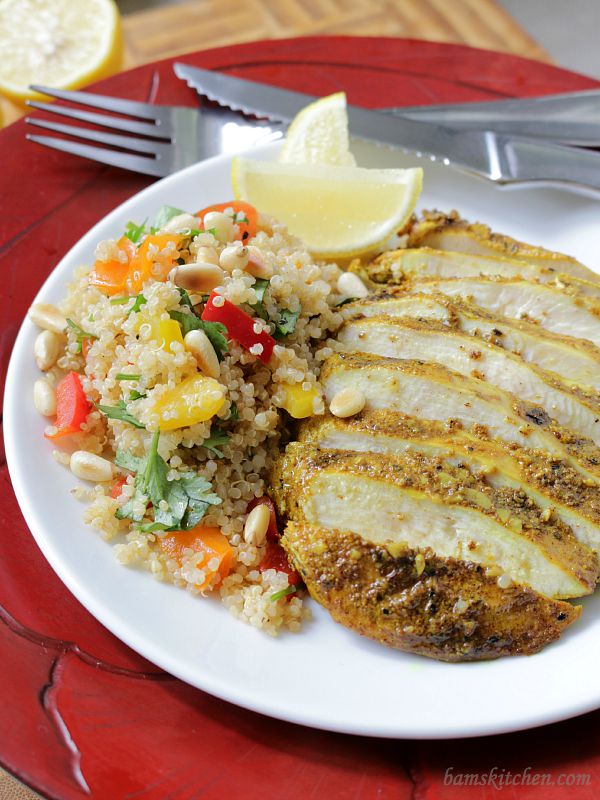 Explore the World of Spices
I have a spice drawer well more like a SPICE KITCHEN. I can't fit all my spices in the little spice cabinet to the left of the stove or to the right of the stove or on another special spice rack across the kitchen as a matter of fact I had to buy a whole huge spice ceiling to floor piece from IKEA.
My husband travel loads all over the world and he loves to buy spices as he hopes that might inspire me to cook something he just ate in a land far away. My youngest teenage son, bless his little heart, who is on an 30 day Alaskan Mountaineering expedition, also loves to buy mom spices. It is the most adorable thing ever!!! 🙂 The usual "The world rotates around my axis", teenager might buy himself a little snack with the little extra change he or she has burning in their pockets as they are so wrapped up into themselves and their iPhone. However, my teenager loves to buy mom new spices. How sweet is that! I can't believe how much I miss that little guy but traveling from Hong Kong to Alaska is a long way from home. A life changing experience for him and it is preparing me for the empty nest syndrome...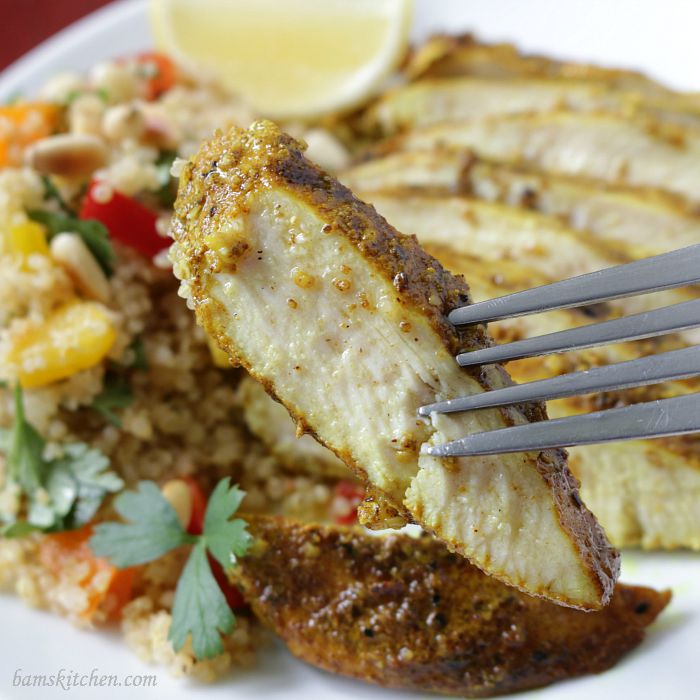 How to make Homemade Moroccan Spice
Now back to the delicious Grilled Moroccan Chicken and Pine Nut Quinoa. The other day I was browsing through Kevin is Cooking cooking website and found this beautiful recipe for Moroccan Seven Spice Mix. I was inspired! Kevin has the motto of Big, Bold Flavors with an International Twist and I am sure you will love his recipes. I swapped out cumin for nutmeg as my family really loves cumin and its earthy flavours and added garlic of course. I adjusted a little bit of the other ingredients just to cater it to our family's like and it was just gorgeous.
Marinating your chicken with this delicious spice mixture can be done as early as the night before or just a few hours ahead but the longer marinating time really makes the chicken tender and delicious. You can also make your Pine Nut Quinoa Salad the day before, so this makes this the perfect dish for entertaining. All the prep is done before and just a few minutes on the grill, while you are entertaining your guests, and dinner is served. If you like Moroccan Spice, you are going to love our Grilled Split Cornish Game Hens. These little game hens are perfect for an easy elegant alfresco dining experience.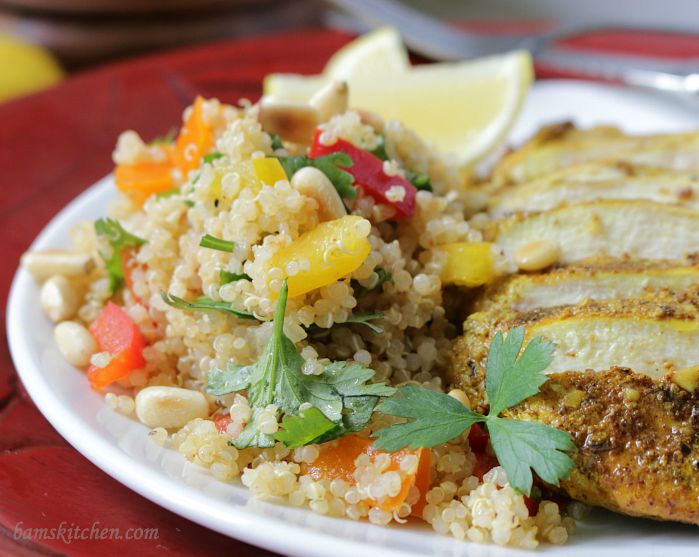 Fabulous Recipe for Meal Prep Sunday
This is also a great dish to prepare on a Sunday and you can eat off it a few days by recreating the leftovers with Moroccan chicken and pine nut quinoa pita breads or wraps. Maybe one day you make a big salad and add the grilled chicken and pine nut quinoa to loads of leafy spinach and romaine leaves with your favourite Lemon White Balsamic Vinaigrette... or freeze the grilled Moroccan chicken and pull that back out when you having the worlds worst crazy weeknight. (Make extra as leftovers rock!!!)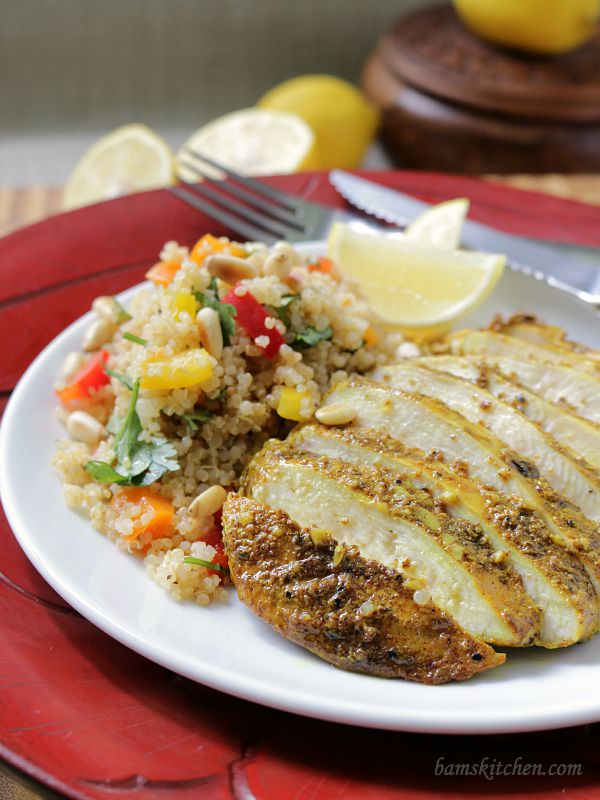 Grilling and Chilling
This dish is a perfect summer or spring grilling dish. The freshness from the lemons are really the perfect way to lighten the dish. You can really use any fresh veggies you have in the crisper to make your pine nut quinoa. However fresh cilantro, crunchy toasted pine nuts and fresh lemons really make this dish sublime. I used quinoa as that is what I had on hand but equally delicious with couscous, rice, millet or whatever you like.
More Delicious Moroccan Recipes
Easy Moroccan Ground Lamb Stew
Slow Roasted Moroccan Spiced Leg of Lamb
Warmed Spiced Quinoa with Roasted Autumn Vegetables
Hungry For More? Subscribe to our Newsletter and follow along on Facebook, You Tube, Instagram, and Pinterest for all the latest updates.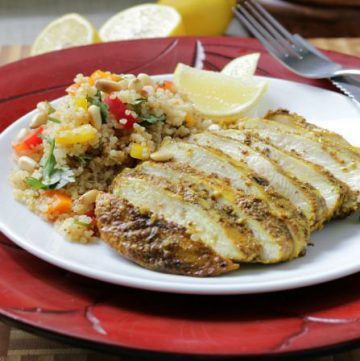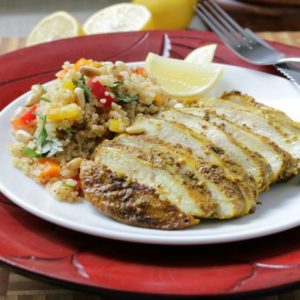 Grilled Moroccan Chicken and Pine Nut Quinoa
Aromatic Moroccan spiced infused chicken, grilled to perfection, and sliced on top of fresh lemon and cumin scented pine nut quinoa. Quick, easy on your plate in 30 minutes and is a perfect refreshing summertime meal!
Print
Pin
Rate
Ingredients
Moroccan Grilled Chicken
12

oz

chicken breasts


4 boneless skinless (or can also use tenderloin, thighs but you will need to adjust the cooking time)

¼

cup

olive oil


2

cloves

garlic


minced fresh (or 1 teaspoon dried ground)

2

tsp

cumin powder


1

tsp

turmeric


dried ground

1

tsp

cinnamon


ground

½

tsp

ginger


dried ground or 1 teaspoon freshly grated

1

tsp

black pepper


¼

tsp

cloves

ground

salt and pepper


to taste

2

tbsp

lemon juice

Pine Nut Quinoa Salad
⅓

cup

pine nuts


toasted

4

cups

quinoa


cooked (or 1 cup uncooked rinsed well and with 1.5 cups of water cooked for about 15 minutes and then cooled)

2

tbsp

olive oil


½

cup

red bell pepper


chopped

½

cup

yellow bell pepper


chopped

1

tbsp

onion


minced

¼

cup

cilantro


(coriander) roughly chopped

1

tsp

cumin powder


3

tbsp

lemon juice


salt and pepper

to taste
Instructions
Marinate your chicken: If you can remember to do this the night before or before you leave for work in the morning, give your self a high five and for the rest of us at least a good one hour marinade time is best. Pound Chicken breast so they are flat and cook evenly on the grill or your can even slice lengthwise to minimise the cooking time on the grill. Place the following item in a bag or container to marinate... Chicken, olive oil, garlic, cumin powder, turmeric, cinnamon, ginger, black pepper and cloves. (Hold the lemon juice and salt and pepper for during and after the grilling process) Place in the refrigerator to marinate.

Make the Pine Nut Quinoa Salad: Toast pine nuts on a low heat in a pan for about 2-3 minutes until toasty and golden. Remove from pan to cool. Set aside. In a medium bowl, add the cooked and cooked quinoa. (I put mine in the freezer on a hot pad to speed up the process) Add the following ingredients into the coked quinoa... red and yellow bell peppers, onions, cilantro, cumin, lemon juice and salt and pepper and toss well. (Hold the pine nuts until you are ready to serve) Place in the refrigerator to keep cool until ready to eat.

Grill the Moroccan Chicken: Remove the marinating chicken from the refrigerator and preheat the grill. Oil and prepare your grill and grill the chicken breasts for approximately 2-4 minutes on each side depending on the size of your chicken breast. Season with salt and pepper during the grilling process. Once the chicken is cooked and juices are running clear remove from grill and allow to rest for 5 minutes. Slice the chicken against the grain and squeeze fresh lemon over top.

Plating up: Give the Pine nut quinoa salad a quick toss and recheck and adjust seasonings. Add the pine nuts and toss well. Place about 1 cup of the delicious pine nut quinoa salad on each plate and then add on top the delicious Moroccan grilled chicken and a wedge of lemon and enjoy.
Notes
Marinating your chicken overnight is always best for full flavor. However, if time is an issue, marinate at least 30 minutes.
Grilled Moroccan Chicken and Pine Nut Quinoa can be stored in a sealed container in the refrigerator for up to 3 days. Great idea for meal planning Sundays!
In addition, this recipe can be frozen up to 3 months, just heat and enjoy.
Nutrition
Serving:
1
g
|
Calories:
605
kcal
|
Carbohydrates:
47
g
|
Protein:
29
g
|
Fat:
35
g
|
Saturated Fat:
4
g
|
Cholesterol:
54
mg
|
Sodium:
117
mg
|
Potassium:
830
mg
|
Fiber:
7
g
|
Sugar:
3
g
|
Vitamin A:
726
IU
|
Vitamin C:
67
mg
|
Calcium:
57
mg
|
Iron:
5
mg