Citrus Crepes with Chocolate Orange Ganache are citrus essence French crepes with drizzles of dreamy chocolate orange ganache.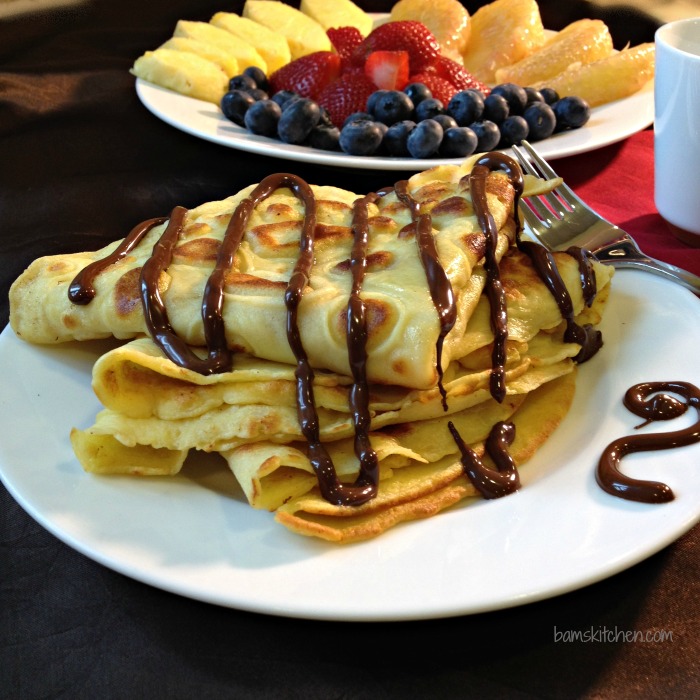 There is absolutely nothing healthy, vegan, paleo friendly, diabetic friendly, gluten-free or cardiac friendly about this upcoming recipe but sometimes you just need to let your hair down and enjoy the moment. This was just one of these special moments.
My boys are on exam leave. My boys are feverishly studying and eating me out of house and home. I have run out of printer paper, ink, food, patience and have been chained to the stove for the last 2 weeks trying to keep the boy's study rhythm in the groove.
Why you are going to love Citrus Crepes with Chocolate Orange Ganache
Decadent
Crispy edges and soft pillowy crepes
Chocolate and orange together are delightful
Difficult to decide if this is a dessert or a breakfast and that is a good problem to have!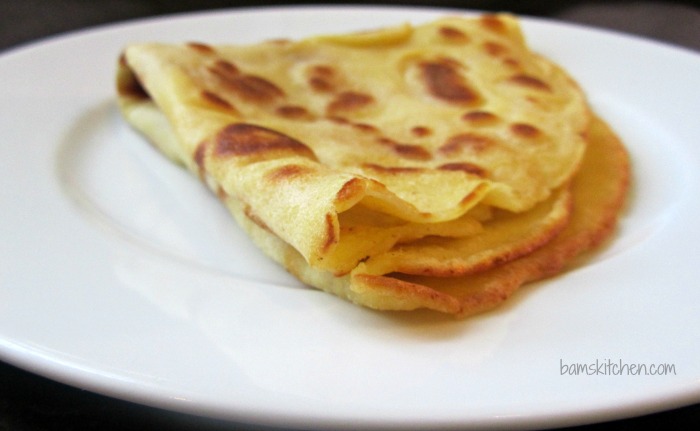 I made the boys some French crepes using my friend Mandy's, the complete cookbooks crepe recipe and added a little orange and lemon zest. Please stop on over to The Complete cookbook for some delicious recipes, stories or just to look at her pile of gorgeous French crepes/pancakes. I then topped the crepes with a little dusting of icing sugar and then sent the boys promptly back to their room to finish their exam revisions.
My house smelled wonderful from the crepes cooking and I still had some crepe batter left. I have been such a good little girl following my gluten-free, egg-free and lactose-free diet I decided to be a little naughty.
I looked in the pantry for just a smidgen of maple syrup or honey and we were all out of my usual staples. I found my secret stash of dark chocolate under the broccoli, we were in business!
I think more than anything moms and dads need a study break more than the kids. I have been reviewing and checking past papers in English, maths, Global perspectives, etc… and even practicing Chinese with my eldest. This enough to make any mom need chocolate. Heck, this is a chocolate emergency!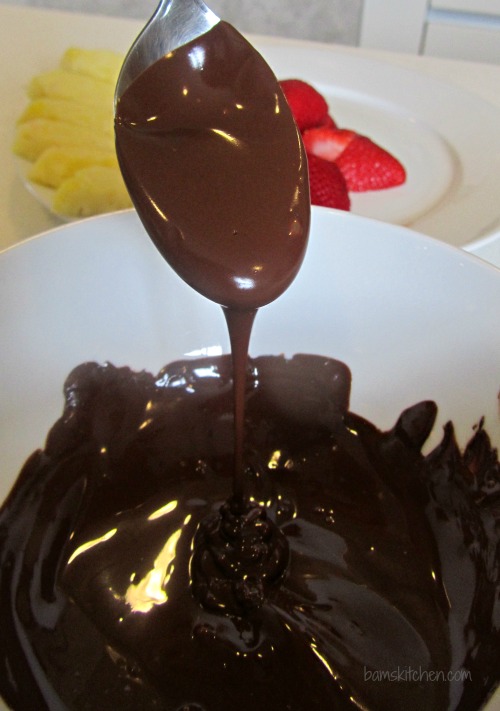 I first melted my chocolate and then tried to incorporate it directly right on top of the crepe whilst it was cooking. All was going well until I decided it was time to flip the crepe over. There is no need to repeat this science experiment. It does not work. As I was in the process of eating my failed science experiment, I was happily surprised as I tasted a little bit of the orange zest in the crepe and how nice it paired with the chocolate.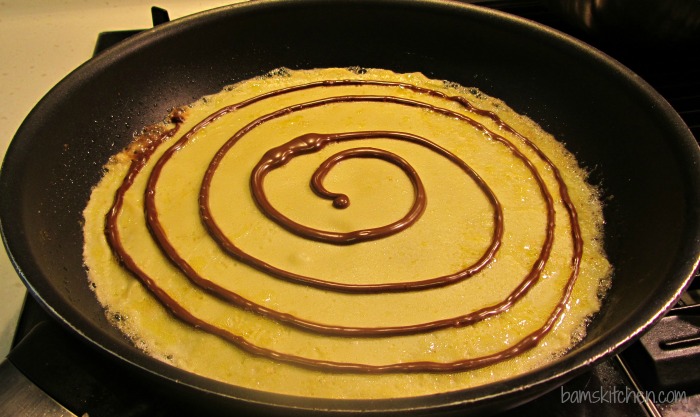 Then it had me furiously looking into the freezer as I remember us having one of those airplane sized serving of Cointreau left. Cointreau is an orange flavored liquor. There it was and untapped and a perfect complement to my chocolate orange ganache. (Do any of you keep your alcohol in the freezer? As you know, alcohol does not freeze and I especially love my dinner aperitifs or digestifs really cold but not watered down by melting ice on the rocks.)
Now you know you can't just go adding alcohol directly to the melted chocolate or otherwise it will seize up. However, you can most certainly add orange flavored liquor to a chocolate ganache so I whipped out the cream and butter and got to work. I think I mentioned this before but this is not one of those "healthy low-calorie recipes".
If you are serving this for breakfast or dessert for children or teenagers, just omit the orange flavored liquor and you can substitute with a teaspoon of vanilla essence instead.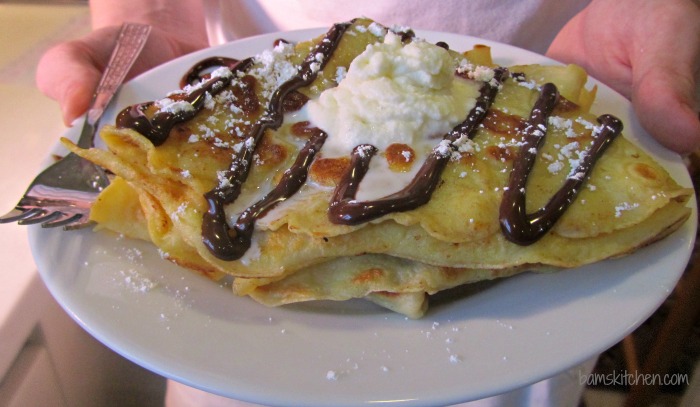 I carefully folded over my orange essence crepes, drizzled them with a little chocolate orange ganache and finally dusted on a little icing sugar. I closed, locked and barricaded the kitchen door and took my first blissful bite of heaven. I am lost in a cloud of chocolate and orange happiness for a while or at least until I hear the words, "Mom can you help me with my…"
Is this breakfast or a dessert? I will leave you decide.
More delicious Orange and Chocolate Dessert recipes
Braised Orange Anise Lotus Root
Chewy Mandarin Orange Cookies (Gluten-free, Vegan)
Chocolate French Eclairs with Cinnamon Cream
Hungry For More? Subscribe to our Newsletter and follow along on Facebook, You Tube, Instagram, and Pinterest for all the latest updates.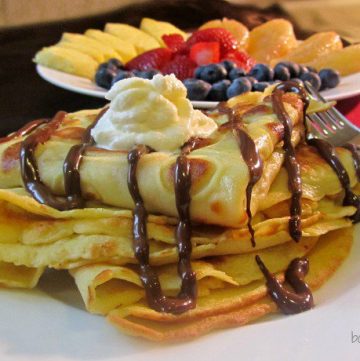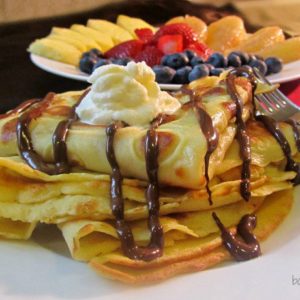 Citrus Crepes with Chocolate Orange Ganache
Delicate citrus essence French crepes with drizzles of chocolate orange ganache. Recipe adapted from "The Complete Cookbook" Makes about 16 small crepes or 8 large ones.
Print
Pin
Rate
Ingredients
1

cup

flour


1/2

tsp

salt


1

tsp

sugar


or sugar alternative

1

egg


beaten

1

cup

water


1/2

cup

milk


or dairy alternative of choice

1

tsp

lemon zest


1

tsp

orange zest

butter


to fry crepes
Chocolate Orange Ganache
1

cup

whipping cream


or can make Homemade Coconut Whipped Topping

8

oz

dark chocolate


70%

2

tbsp

butter


unsalted

2

tsp

orange zest

1

tbsp

Cointreau


or other orange flavored liquor (optional)
Garnishes
powdered (icing) sugar


optional

oranges

sliced (optional)
Instructions
In a medium bowl add sifted flour, salt, sugar, beaten egg, water, milk, lemon and orange zest and mix until well incorporated. Set aside and if you have 30 minutes to spare to allow the pancakes flavors and products to mingle that would be best but I had hungry boys so I started cooking right away.

Make the chocolate orange ganache- In a small saucepan heat up cream until it is just ready to start to boiling. (careful to not let the cream boil over as that is a big mess) Remove pan from heat and add chocolate, butter, orange zest, and orange liqueur. (If serving to children can substitute with vanilla to replace the orange liquor) Let ganache stand 3 minutes and whisk just until chocolate is melted. Chill ganache for about 30 to 40 minutes.

In a small frying pan melt a little butter and add a small ladle of crepe batter to the pan. Tilt the pan from side to side and a circular motion to make sure the batter is thin and fully covers the bottom surface of the pan.

Cook crepes for 1-2 minutes or until lightly golden brown and flip over and cook for another minute or until golden brown on each side. Repeat process for each crepe.

Continue to cook the crepes until all the crepe batter is used and keep the crepes warm with a lid on top while you are cooking the rest of the crepes.

In a bowl with an electric mixer beat the chilled chocolate orange ganache just until light and fluffy before using. Be careful to not over beat, just until thick and shiny.


Carefully fold and stack your crepes on a plate and drizzle with a little chocolate orange ganache and garnish with a little sifted icing sugar and fresh orange slices. Enjoy.
Nutrition
Serving:
1
g
|
Calories:
748
kcal
|
Carbohydrates:
55
g
|
Protein:
11
g
|
Fat:
54
g
|
Saturated Fat:
32
g
|
Cholesterol:
142
mg
|
Sodium:
407
mg
|
Potassium:
539
mg
|
Fiber:
7
g
|
Sugar:
16
g
|
Vitamin A:
1181
IU
|
Vitamin C:
3
mg
|
Calcium:
125
mg
|
Iron:
8
mg