Cheesy Beef Steak Hoagies with a Kick are made with grilled sliced beef piled high on top of a toasted buttered hoagie bread with grilled onions, bell peppers, jalapeños and drizzled with a thick and dreamy chili con queso cheese sauce.
.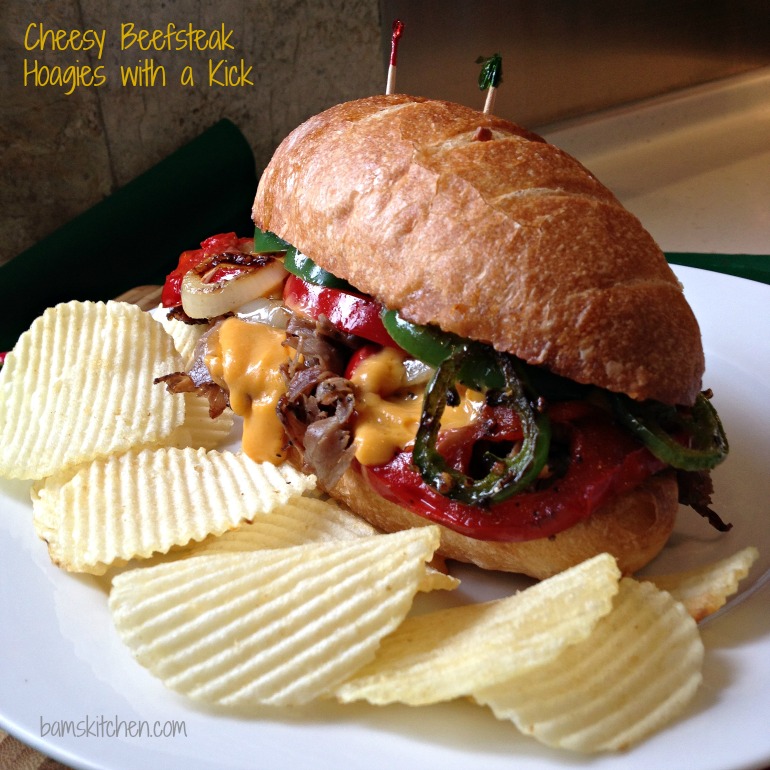 I never said this was a low-calorie dish. I never said this one was made for a diabetic diet but this one was sure a winner with the my teenagers whilst they were studying for mid-term exams. There is just something that happens when kids/teenagers/college students need to cram for tests. They are miserable. They mope around the house just like they lost a new puppy. They are irritable, short-tempered and they lack discipline and this is just the parents... Just kidding...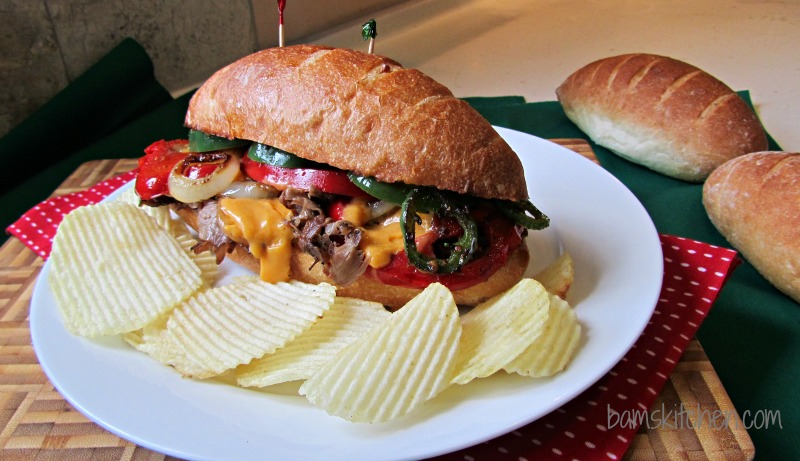 I wanted something fast and delicious so they could have a quick and delicious fuel that would leave them satisfied and happy so that they could get back to revising for exams.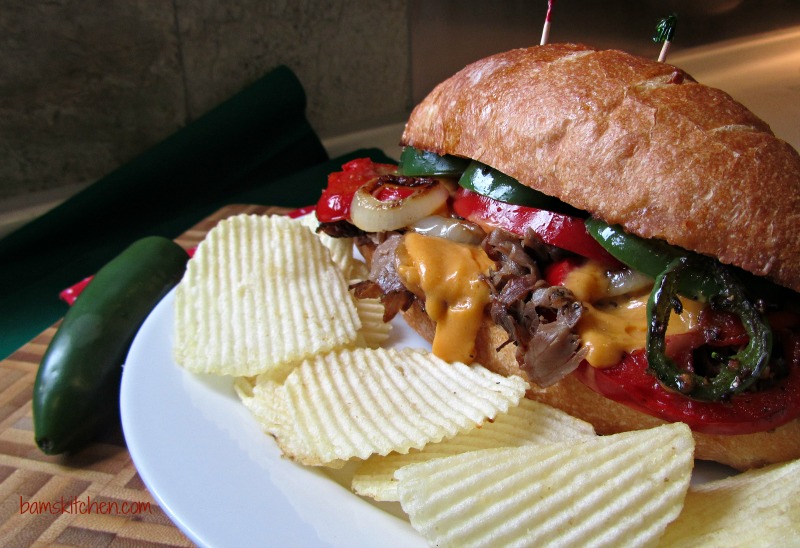 My eldest son is the one who was requesting this dish and you know how I aim to please. This was a two-day and eight store wild goose chase hunt in Hong Kong to find the supplies needed to make these Cheesy Beef Steak Sandwiches with a Kick. I know that in the US that I could probably find everything I need to make these delicious sandwiches right at the local gas station, but in Asia, it is difficult feat.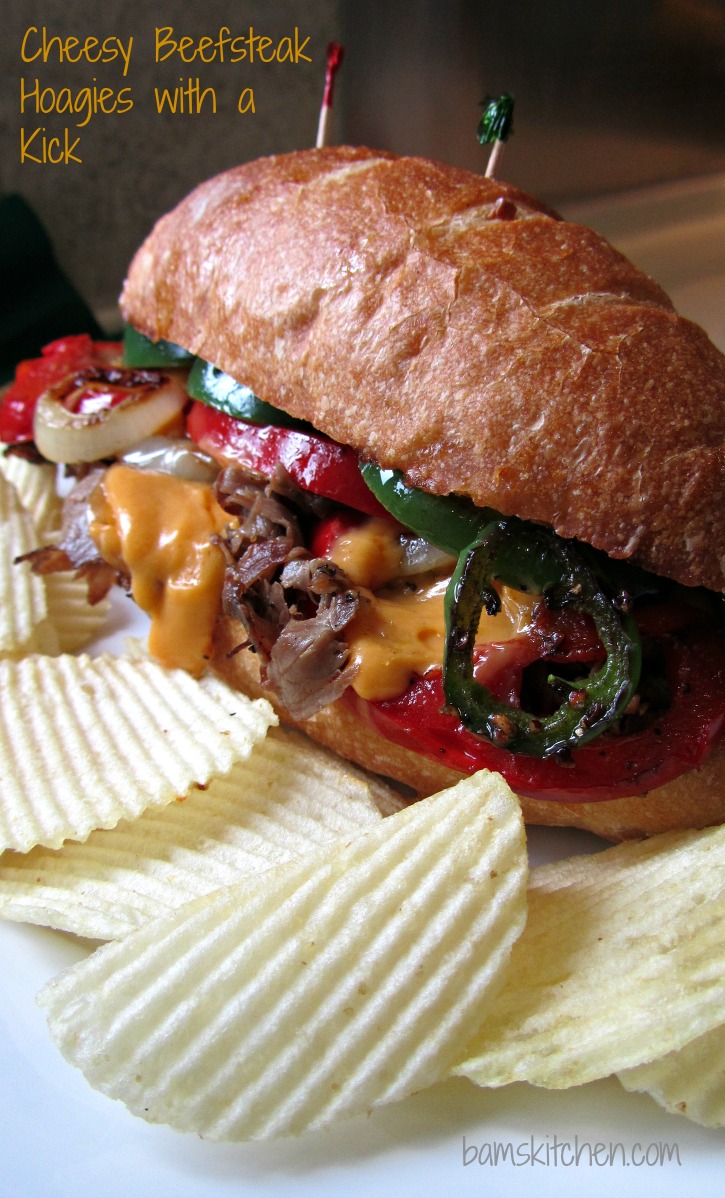 Cheesy Beef Steak Hoagies with a Kick - Great Tail gaiting and study food
Whether you are watching your favorite teams play, need some brain fuel or just want a fun dinner idea for a causal evening, Cheesy Beef Steak Hoagies with a Kick is just what you need. You can prepare everything in advance. Halftime is just a reheat.
Finally with all the ingredients in hand, I realized that I forgot to purchase the provolone cheese... and there was no way that I was going back out there to get it. Plan B, use what you have on hand. Deep within the bottom cupboard was what I was saving for a special day was a little prepared chili con queso cheese dip in a jar. This was going to be that very special day and it was not going on some plain corn chips, no sir ee, it was going on our Cheesy Beefsteak Sandwiches. Oh yeah!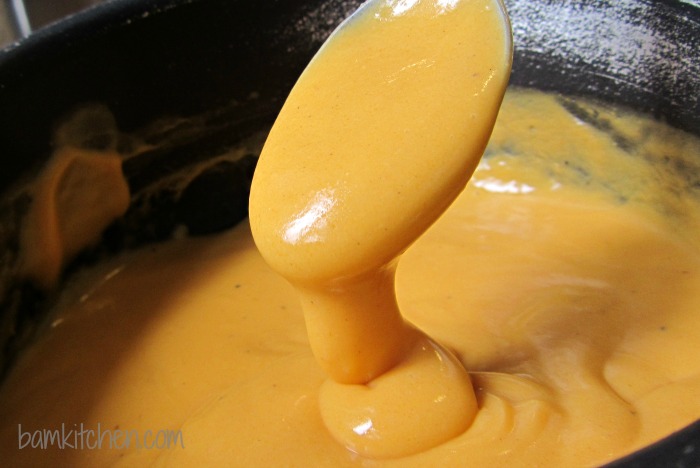 That whole concept had me thinking, if we were going spicy why not add some grilled jalapeno too. My boys like their food hot and spicy however, if you are like me, then just leave off the jalapeno and use some provolone instead of the cheesy chili con queso dip and this is just grand.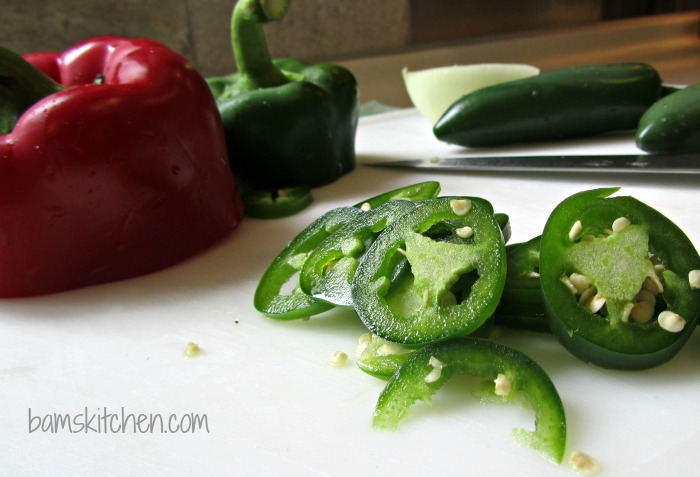 This whole dish from start to finish, including the boys inhaling it and minus the photography, was about 20 minutes. You have to love that and on a busy work week or an action packed weekend this is a great meal that is sure to please.
History behind the Philadephia Cheese Steak Sandwich
Two Italian immigrants, Harry Olivieri and Pat Olivieri sold hot dogs and sandwiches in Philadelphia. One of the brothers was sick of eating hotdogs every day and sent his other brother to the store to get some beef and he fried it up with some onions and put it on a hot dog bun. Their store had a drive through window and a taxi driver smelled the delicious smell from the Olivieri's sandwich and asked for his steak sandwich instead. The taxi driver took one bite and told the Olivieri brothers that you should stop selling these hot dogs and start selling beefsteak sandwiches instead. That is exactly what they did. So there you have it, using a hotdog bun as alternative to hoagie bread is a grand idea.
Hoagie Ingredient Alternatives and Helpful Hints
1) Find soft white bread/rolls. There is something special about sinking your teeth into those soft hoagie buns that makes this sandwich perfect. I would not suggest French baguettes as these are too tough to sink your teeth into. Do not buy those disgusting sweet milk breads at the pastry shops here in Asia, this is not a a dessert, it is a main course. Try to find yourself a store that sells some Western breads or at last resort try hot dog buns. The hoagie buns I found in the market even had mozzarella cheese inside or of course you could bake your own.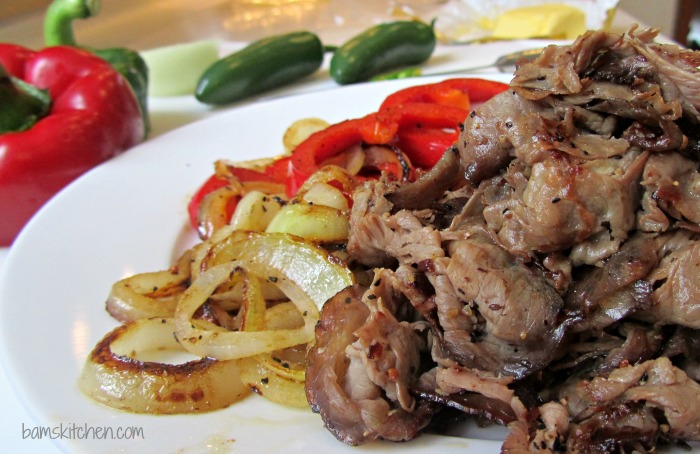 2) Use deli thin sliced beef, if that is available to you. If not, plan B is to fry up a steak and cut ultra thin. I had to go to 4 stores to find deli sliced beef here in Hong Kong. Beef is super expensive here in Hong Kong but you can estimate about ⅛-1/4 a pound of beef per super large hoagie sandwich. Peppers and onions are much cheaper so fill your sandwich with lots of veggies.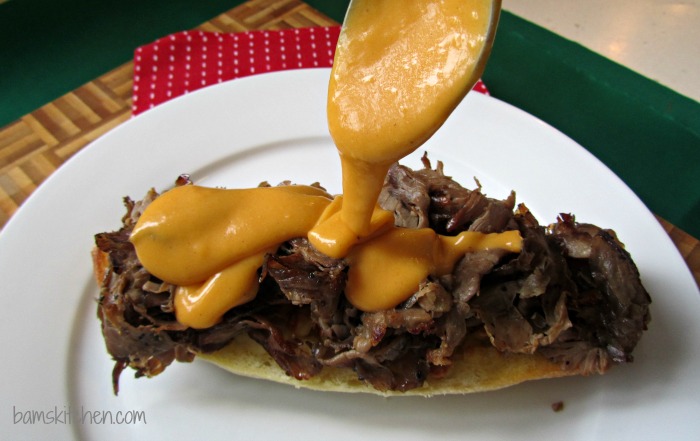 3) Season your beef and your veggies with a delicious steak seasoning and fry it up in a little olive oil. Do you think that the Italian Olivieri brothers were using canola oil? Coconut oil? or sunflower seed oil? My goodness, no! These boys were from Italy.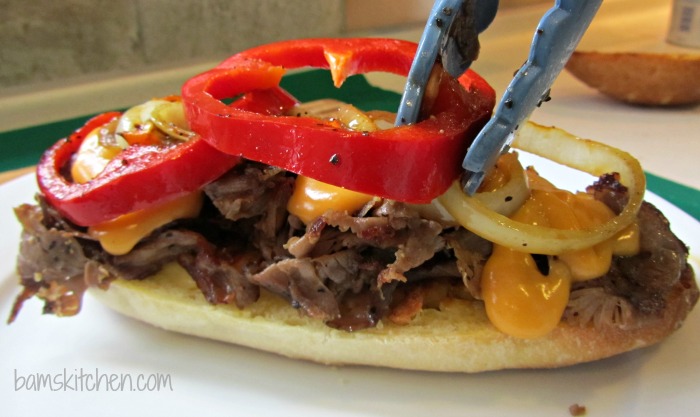 4) Use your cheese of choice. Provolone is traditional but be realistic, use what you have on hand. I think if I was using provolone I would want to take the extra step of putting my sandwiches open- faced in the oven to broil for just a moment to make the cheese melty and delicious. Cheez whiz made a big hit in the 1960's along with TV dinners but I know many people won't touch velveeta with a ten foot pole. In desperation, I used a con queso cheese sauce. The boys loved the soft and spreadable cheese as it really is delicious. You can make your own homemade con queso sauce without the dreaded velvetta.
5) Butter and grill your bread before piling on the toppings. There is just something magical about biting into the soft dough and then hearing the little crunch at the end before you hit the mounds of delicious beef, piled high vegetables and dripping cheese.
6) Bring lots of napkins to the table as these are delicious sandwiches but super messy, especially with boys.
Sandwich and Pizza Recipe Ideas for Tail Gaiting
Wholly Guacamole Pizza Pizzazz
Stove Top Chicken Fajitas Sliders
Hungry For More? Subscribe to our Newsletter and follow along on Facebook, You Tube, Instagram, and Pinterest for all the latest updates.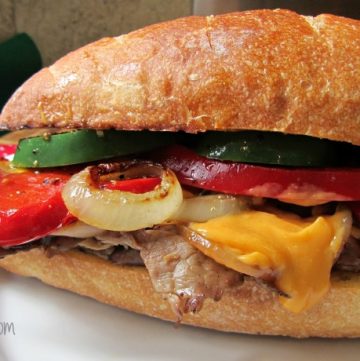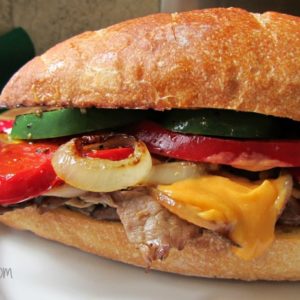 Cheesy Beef Steak Hoagies with a Kick
Delicious grilled seasoned thin sliced beef piled high on top of a toasted buttered hoagie bread with grilled onions, tri-colored peppers, jalapenos and drizzled with a thick and creamy chili con queso cheese sauce.
Print
Pin
Rate
Ingredients
2

tbsp

olive oil


¾

cup

onion


sliced

1

red bell pepper


cut into thin slices and seeds and core removed

1

yellow bell pepper


cut into thin slices and seeds and core removed

1

green bell pepper


cut into thin slices and seeds and core removed

2

tsp

steak seasoning


(1 for veggies and 1 for beef)

1

jalapeno


optional sliced

1

pound

beef


chipped beef (I found an Italian brand at the deli but can also get a beef lunchmeat in the packages or just fry yourself up a steak and cut it up super thin)

1

cup

chili con queso cheese sauce


(melted and hot) (You can exchange with provolone slices or whatever cheese you like)

4

buns

hoagie bread


cut in half lengthwise

1

tbsp

butter
Instructions
Preheat your pan, add 1 tablespoon of oil and fry up the onions, red, yellow and green bell peppers. Add a dash of steak seasoning and stir fry until fork tender and onions are golden about 4-6 minutes. I used my iron skillet and it really made my veggies nice. Remove veggies from pan and keep warm. I fried the jalapenos up in a separate pan just until fork tender as I did not want my version spicy. (FYI ventilate your room if frying up jalapenos, you can thank me later for the advice)

Add another tablespoon of olive in your iron skillet or pan and add beef and 1 teaspoon of steak seasoning or to taste and fry up beef until it is no longer pink and the edges are slightly brown. While your beef is cooking, butter your hoagie breads and put on the grill pan or griddle butter side down until nice and toasty brown. In a separate little saucepan or in the microwave heat up your con queso cheese sauce until very warm but not boiling. Turn off all burners.

Assemble your Cheesy Beef Steak Hoagies with a Kick. Lie your hoagie breads with the bottom down and butter side up and pile high a mound of beef. Drizzle a couple of tablespoons of con queso cheese sauce on top. Mound on top of the con queso sauce the cooked tri-colored peppers, onions and jalapenos on top. Finally add a drizzle more of the con queso cheese sauce and then the top of the bun.

Enjoy your Cheesy Beef Steak Hoagies with a Kick hot off the grill with some sliced fresh veggies or chips on the side and plenty of napkins.
Notes
We used soft hoagie buns. You can use gluten-free bread, if desired. Feel free to exchange cheese sauce with provolone cheese as desired.
Nutrition
Serving:
1
g
|
Calories:
533
kcal
|
Carbohydrates:
13
g
|
Protein:
23
g
|
Fat:
43
g
|
Saturated Fat:
14
g
|
Cholesterol:
93
mg
|
Sodium:
595
mg
|
Potassium:
528
mg
|
Fiber:
2
g
|
Sugar:
6
g
|
Vitamin A:
1570
IU
|
Vitamin C:
123
mg
|
Calcium:
86
mg
|
Iron:
3
mg