Banana Mango Boats are a tropical gluten-free dessert with fresh mangos, bananas and a creamy dairy free filling all baked right in the banana skin.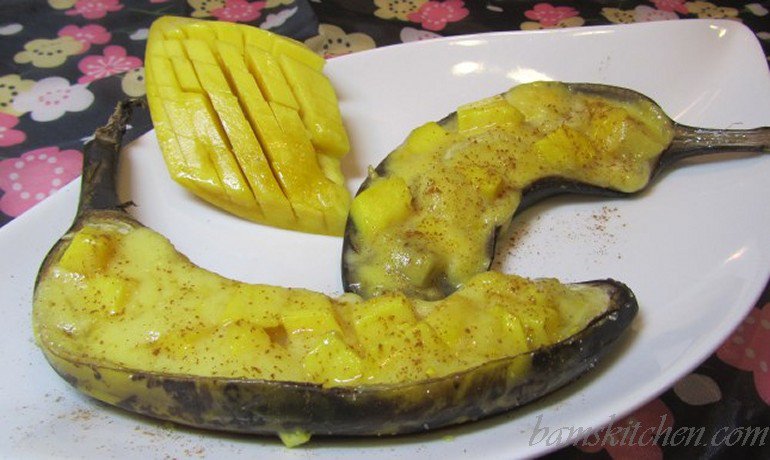 Why you are going to love Banana Mango Boats
Creamy
Delicious
Tropical
Easy Recipe
Perfect for a Luau party!
"When you're watching the hula girls dance... be careful for the chance of romance."
"When the grass goes a swishing don't be a wishing... that you could mow the lawn."
"Or if your too young to date... or over 98... Keep your eyes on the hands..."
Is everyone if the tropical mood, now? Can you picture the beautiful tropical sunset? Can you hear the crashing waves? Do you feel the sand between your toes? Can you feel the juice dripping down your chin as you take a bite out of a fresh mango?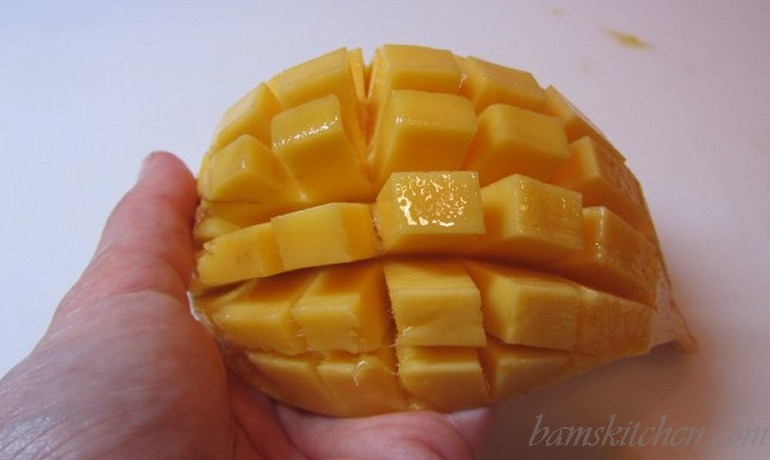 Did you know it is April-May is Mango season here in Southeast Asia? Mangoes are super sweet when they hit their peak ripeness in the heat of the season. There are many different types, but I think some of the sweetest mangos come from the Philippines. Well, that is at least what is most plentiful in HK.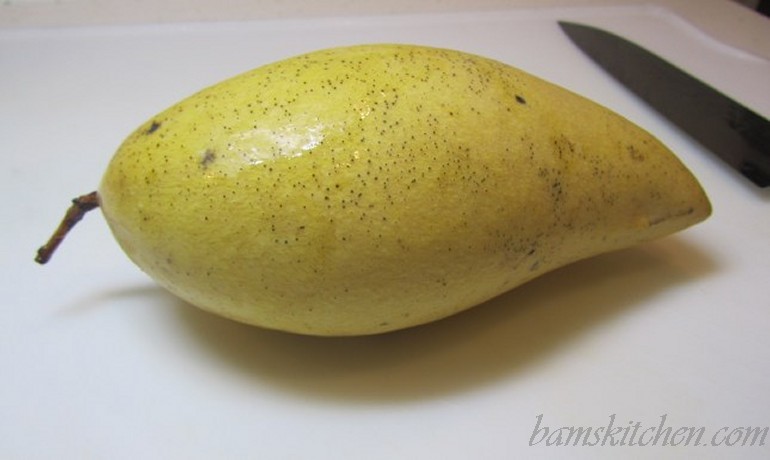 However, I have been told that though India is the largest producer of mangoes, it accounts for less than one percent of the international mango trade. India consumes most of everything it produces. As a matter of fact, have you ever tried a mango lassi? If not, please head on over to one of my dear friend Asmita's website to see how it is traditionally made http://www.compulsivefoodie.com/2012/04/09/mango-lassi/. Asmita has so many recipes but my favorites ones, of course, are her lovely Indian dishes.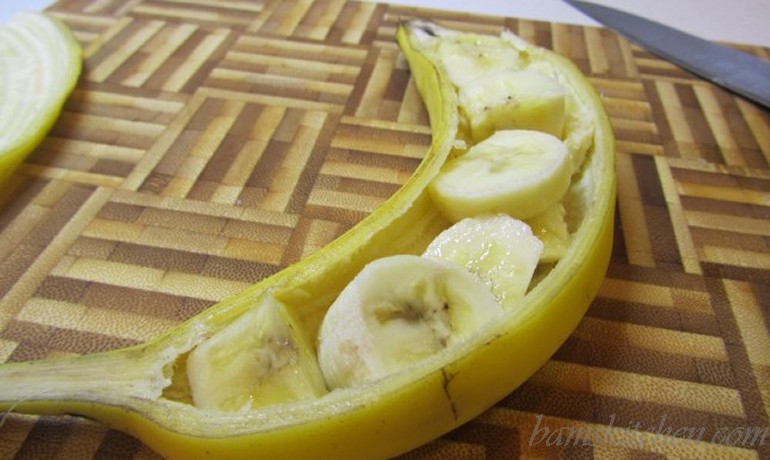 This week in Hong Kong just about everyplace is budding with mangos. The sweet dessert shops have many mango puddings and sweet treats. All of the bakeries have mango cakes. Easy Mango Salsa is a delicious appetizer with tortilla chips or on crispy endive leaves. However, it has been rainy this week in Hong Kong so I wanted something warm and tropical.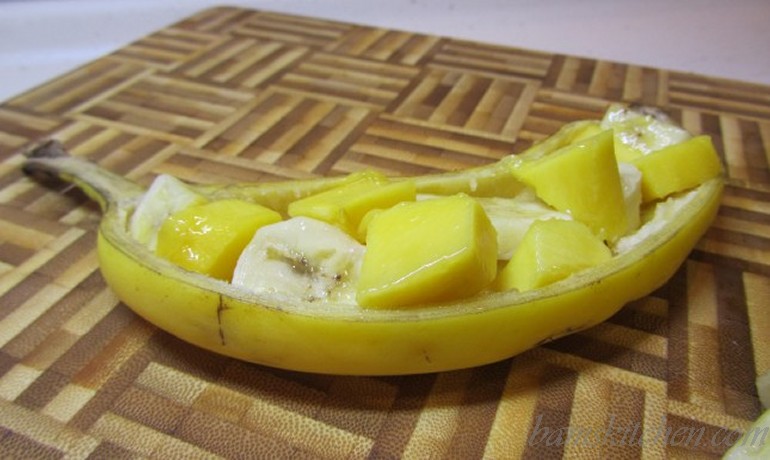 I had absolutely no idea what I was going to make today but I stood at the wet market fresh fruit stand and just stared at all the beautiful fruit. The mangos were plentiful and the bananas also looked just perfectly ripe. Then out of the corner of my eye I caught the glimpse of a person drinking a malted soya milk drink and then the most wonderful idea came to me. I was so excited but had no idea if it was going to work.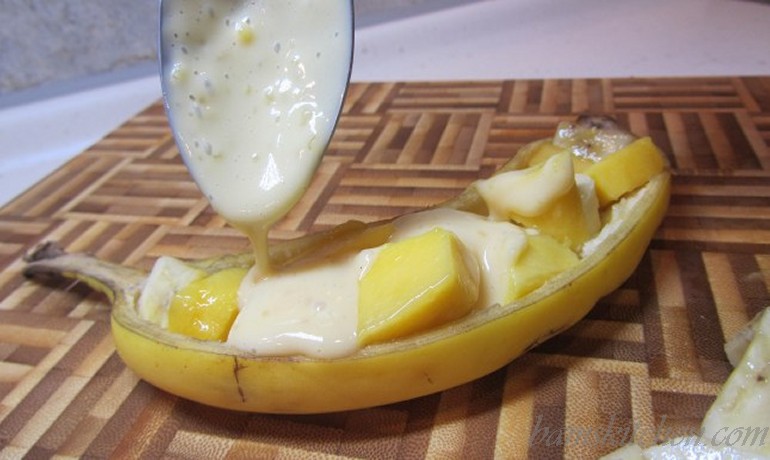 Once I set foot in Healthy World Cuisine, I began experimenting with malted soya milk, sugar, vanilla and cornstarch and made a quick custard. I diced up my mango and started to slice the bananas in half and then I realized I could save on cleaning up dishes if I used the banana peel as the baking pan for my banana mango boat pudding. I was just trying to save myself time but making the decision to roast the bananas in the peel with the mango and custard made this dish so naturally sweet and delicious. Hot and sweet right out of the oven. What a happy accident!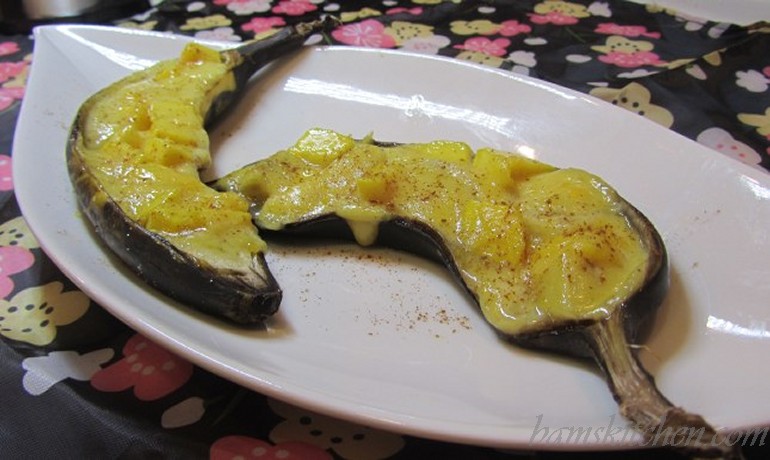 Banana Mango Boats are a really simple dessert and serving it in the banana peel makes it fun to serve up. I really think you could really start a whole craze with this idea. What if your added marshmallow, bananas and chocolate and made smore bananas? Or how about baked bananas with nutella? Or maybe you could make bananas, mangoes, and yogurt into a smoothie and then freeze up in the banana peel for an easy frozen dessert. Wow, so many potential yummy treats to be made.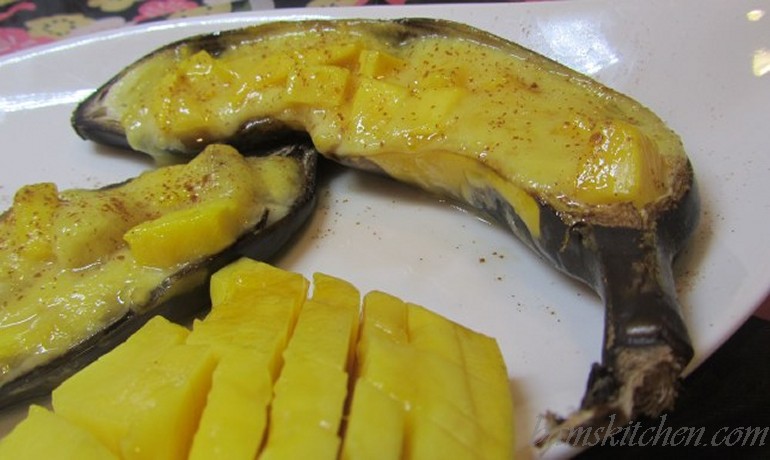 One of the most celebrated tropical fruits out there, mangoes are ripe for the picking in the next few months so please take advantage of the season and give Banana Mango Boats a ride down tropical paradise.
Banana Desserts to Die For
Chocolate Peanut Butter Banana Smoothie
Chocolate Pecan Butter Banana Smoothie
Matcha Banana Strawberry Ice Cream
Hungry For More? Subscribe to our Newsletter and follow along on Facebook, You Tube, Instagram, and Pinterest for all the latest updates.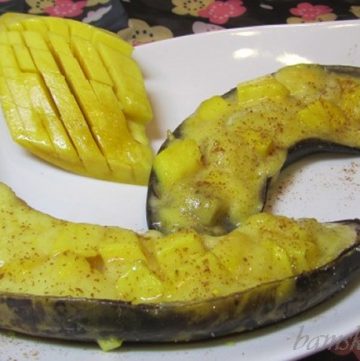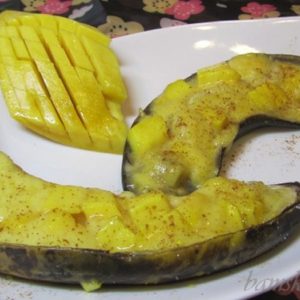 Banana Mango Boats
Banana Mango Boats are a tropical gluten-free dessert with fresh mangos, bananas and a creamy dairy free filling all baked right in the banana skin.
Print
Pin
Rate
Ingredients
2

cups

soy milk


or dairy of choice

2

tbsp

cornstarch


1

tsp

vanilla


2

tbsp

sugar

or sugar alternative

1

large

mango


or 2 small

4

whole

bananas


cut in half

1

tsp

cinnamon


optional or toasted coconut
Instructions
Preheat oven to 190 degrees Celsius

In a small dish mix about 2 tablespoons (of the 2 cups of milk) of malted soya milk with the cornstarch until it is free of lumps.

Place the cornstarch and soya milk mixture in a small pot and heat over medium heat gently while adding the remainder of the milk. (Keep stirring to prevent lumps)

Add vanilla and sugar, stevia or sweetener of choice to the custard. Bring gently up to boil for about 2 minutes until starts to thicken and then turn off heat and set aside. (To obtain your desired thickness add more cornstarch or soya milk to mixture)

Dice mangoes and set aside

Cut bananas in half lengthwise.

Scoop out some of the banana but leave some inside as this gives structure to the banana boat for cooking.

Add mango, some banana slices and scoop in the custard on top of each banana mango boat.

Bake Banana Mango boats for about 5-7 minutes until the custard starts to set.

Remove the Banana Mango Boats from the oven and garnish. (Maybe you would like to sprinkle with sugar and use your blow torch to carmelize the tops. I would have loved to have done that, but I need a blow torch. Sprinkle with cinnamon or maybe even some toasted coconut.) Whatever your little heart desires.

Enjoy Banana Mango Boats hot out of the oven. Maybe with a little tropical ice cream à la mode on the side.
Notes
Make sure to leave some of the banana inside the banana peel to give the banana structure whilst baking. You can also use other fruits instead of mango like blueberries, apricots or even nuts.
Nutrition
Serving:
4
g
|
Calories:
128
kcal
|
Carbohydrates:
22
g
|
Protein:
4
g
|
Fat:
3
g
|
Saturated Fat:
1
g
|
Sodium:
60
mg
|
Potassium:
253
mg
|
Fiber:
2
g
|
Sugar:
16
g
|
Vitamin A:
1024
IU
|
Vitamin C:
27
mg
|
Calcium:
176
mg
|
Iron:
1
mg