Banana Coconut Cream Cups are a silky tropical dessert cup topped with fresh bananas and Homemade Coconut Whipped Topping.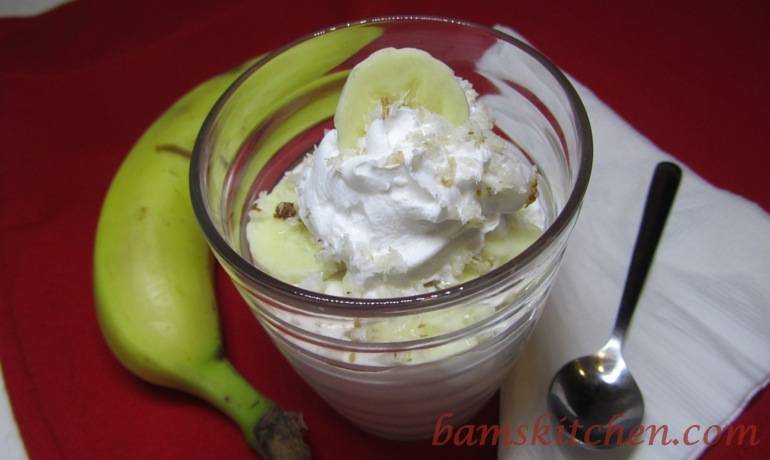 What's for Dessert?
Do you ever get the deer in the headlights look when you family asks you, "It was great dinner mom, so whats for dessert?
Of course, wink wink, mom has made dessert. (My teenagers are just lucky they got fed dinner and now they are hounding me about dessert! However, I smile and take it in stride. As you know, desserts are a rare entry here on on the home front. My boys are also my dear followers. I have to get moving with their long wish list of recipe requests and that includes posting more desserts)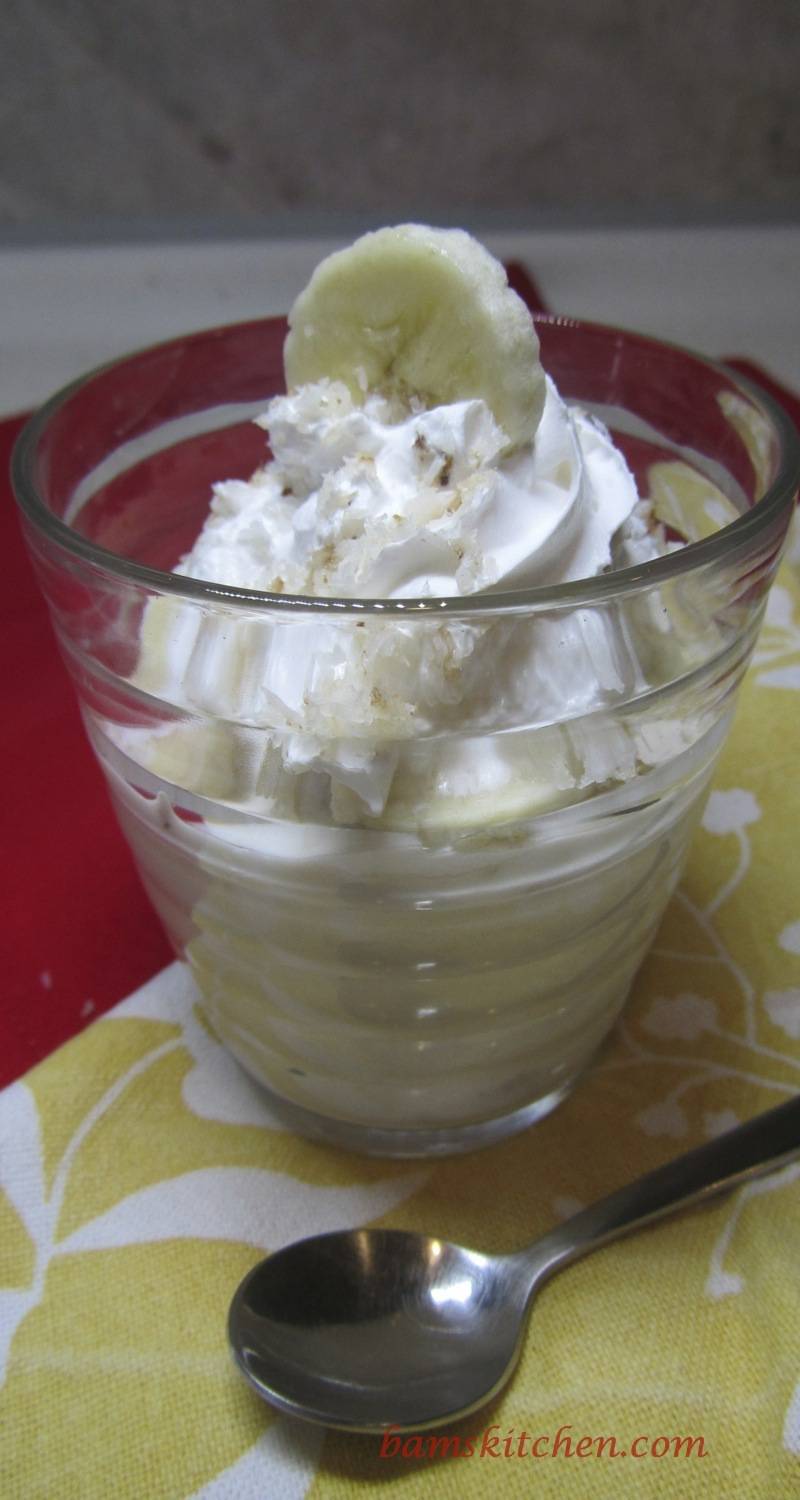 My boys asked "What is for dessert"? I answered, " It's going to be a surprise". It really is going to be a surprise for me too as I have nothing baked, nothing ready and minimal supplies in the pantry. I have no clue what I am going to make for dessert.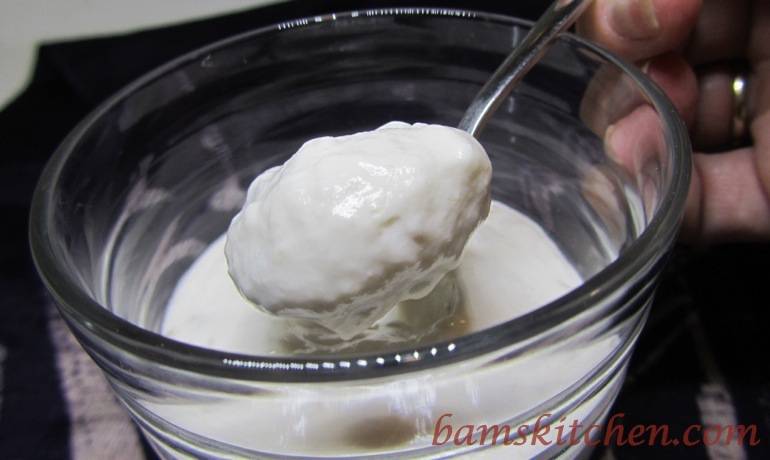 For those of you who do not like to go near the oven on these hot summer days, this is the perfect dessert for you. A great little dessert you can whip with up in a flash. Banana coconut cream cups are smooth, delicately sweet and ultra creamy. I like the billowy clouds of dreamy whipped coconut cream and delicately sweet bananas. I topped it off with some toasted coconut and it was eating a little bit of a tropical paradise. I actually made two versions to adjust for the dietary needs in our family. Both are gluten-free and my version is also lactose free.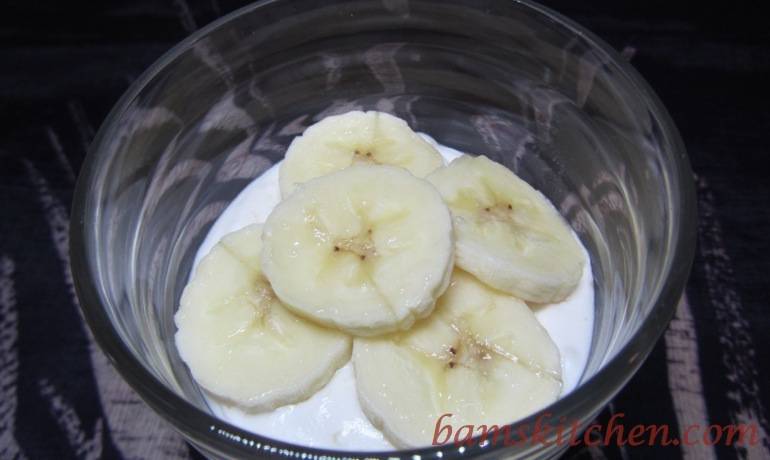 So here I am in my kitchen scourging for something sweet. I am sure we must have some chocolate lying around here somewhere... those little tyrants found my secret stash under the broccoli. What teenager looks under the green healthy things?!?! I guess I need to start changing my hiding spots. I do, however, have some bananas and found some cream cheese in the refrigerator. Maybe, I can bake a cheesecake. Heck no, that requires time and I am not getting that hot oven going. I found some coconut cream in the pantry that I was going to be using for a curry. The curry can wait, but this dessert must press on.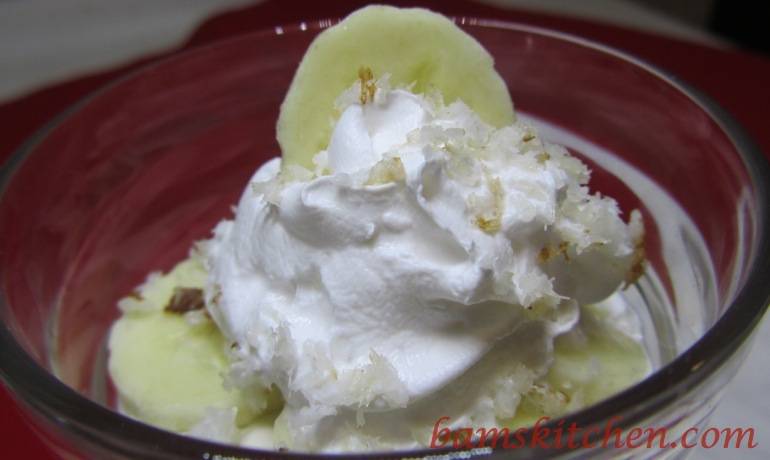 Have you ever tried to whip up coconut cream? You use the same rules as you do for whipping full fat regular cream and get everything very cold before you start the whipping process. I first put my can of coconut cream, my metal bowl and even my metal spatulas in the freezer for about 20 minutes. I even switched on the aircon to keep my room temperature cool.
You don't want your coconut cream frozen, you just want your coconut cream really cold so that it whips up properly just like whipping cream. Next, open your coconut cream can and using a spoon transfer the coconut solids and separate them from the coconut milk. The coconut solids is what you will be whipping. Start out on a slow speed, as you do not want to paint your kitchen white, for a about 30 seconds and then go up to full speed. Give it a few minutes to get full light peaks. It works like a charm. Coconut cream is a great lactose free alternative for those that have an intolerance and you want to have something creamy and dreamy.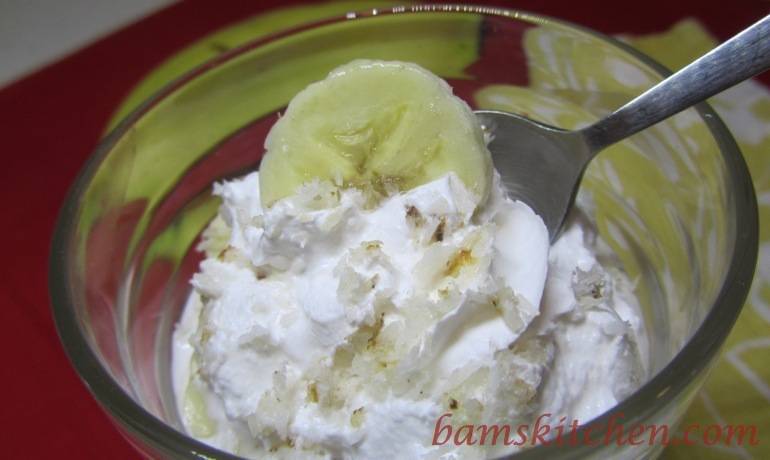 Now for my eldest sister, and for everyone else that turns green at the thought of anything with coconut in it, you can do an easy substitution of regular whipping cream in this recipe or even low-fat vanilla yogurt. If I was substituting regular whipped topping for coconut whipped cream, I would also add some miniature chocolate chips to the mix and garnish with some chocolate swirls on the top. Bananas and chocolate are a very nice pair. However, I think Bananas and Coconut are match made in heaven.
More Dairy Free Desserts with BANANAS
Chocolate Peanut Butter Banana Smoothie
Chocolate Pecan Butter Banana Smoothie
Matcha Banana Strawberry Ice Cream
Hungry For More? Subscribe to our Newsletter and follow along on Facebook, You Tube, Instagram, and Pinterest for all the latest updates.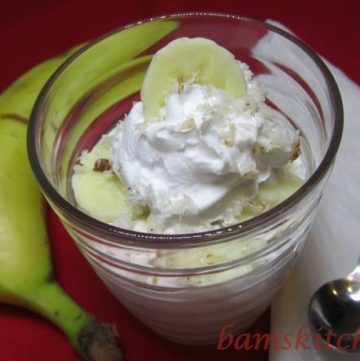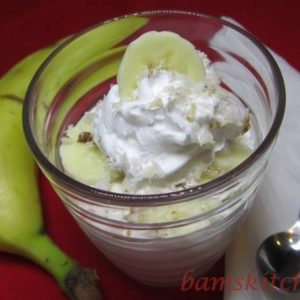 Banana Coconut Cream Cups
Banana coconut cream cups are smooth, delicately sweet and ultra creamy. Every bite is like a little tropical holiday.
Print
Pin
Rate
Ingredients
12

oz

coconut cream


(I know that coconut cream comes in many size can anything from 6 ounces to 16 ounces- the bigger the size the better as you will be skimming for the coconut milk solids) Refrigerate overnight

2

tbsp

desiccated coconut


(lightly toasted)

1

tsp

vanilla


2

tbsp

sugar or sugar alternative


I used 4 splenda sugar packets or you can use honey, agave, coconut sugar, etc) Adjust for your sweetness level. I only like my dessert delicately sweet so you may want to add more.

3

whole

bananas


(reserve a few slices for garnishing)

2

tsp

lemon juice


or about ½ lemon just to prevent browning of the bananas

4

oz

cream cheese

softened low fat (Omit if lactose intolerant)
Instructions
Toast the coconut in a pan just until just golden brown. Remove from pan to cool and set aside. (You can also use use dried coconut as well)

Beat the cream cheese until softened (omit cream cheese step if lactose intolerant).

Peel bananas. Mash two bananas with a fork or mash potato masher. Slice one banana into thin slices. Drizzle lemon juice over the mashed and sliced bananas. (The lemon juice performs two functions; it prevents the bananas from browning and it also gives the dish a little extra sparkle)

Open the coconut cream and separate the coconut milk solids from the milk with a spoon. You will be using the coconut cream solids. Start on low speed for about 30 seconds until bubbles start to form and then increase up to full speed. Beat the coconut cream until it forms soft peaks about 2-3 minutes. Be patient it takes a few minutes. Add sugar/sugar alternatives and vanilla and combine well. I like my desserts only delicately sweet so you may want to add more sugar or sugar alternatives to your coconut cream. (Set aside about ½ cup for garnishing). (You can substitute whipping cream for coconut cream)

Mix the mashed bananas in with the cream cheese mixture and gently fold in the whipped coconut cream. (If lactose intolerant then leave out the cream cheese)

Assembly

: Gather 4 glass cups. At the bottom of each cup place a dollop of coconut, banana, cream cheese mixture. Divide evenly between 4 cups. Next add an even layer of sliced bananas on top of the coconut, banana and cream cheese mixture. Then garnish with a dollop of whipped plain coconut cream and top with toasted coconut shavings and a slice of banana.

Serve immediately or refrigerate up to an hour before serving. Enjoy your dreamy banana coconut cups!

Nutrition
Serving:
1
g
|
Calories:
403
kcal
|
Carbohydrates:
9
g
|
Protein:
5
g
|
Fat:
41
g
|
Saturated Fat:
33
g
|
Cholesterol:
31
mg
|
Sodium:
95
mg
|
Potassium:
329
mg
|
Fiber:
2
g
|
Sugar:
3
g
|
Vitamin A:
381
IU
|
Vitamin C:
3
mg
|
Calcium:
37
mg
|
Iron:
2
mg